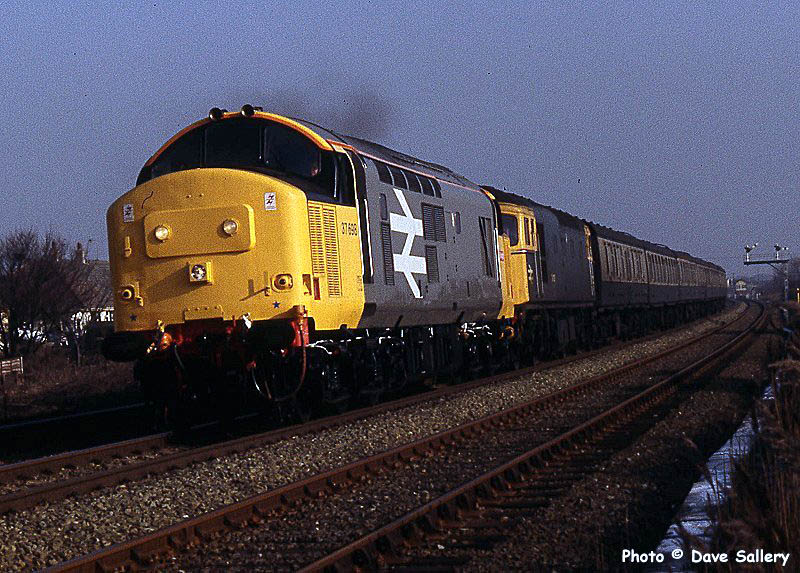 On a cold and frosty morning, 37698 and 33037, near Prestatyn, 12th of February 1986.
---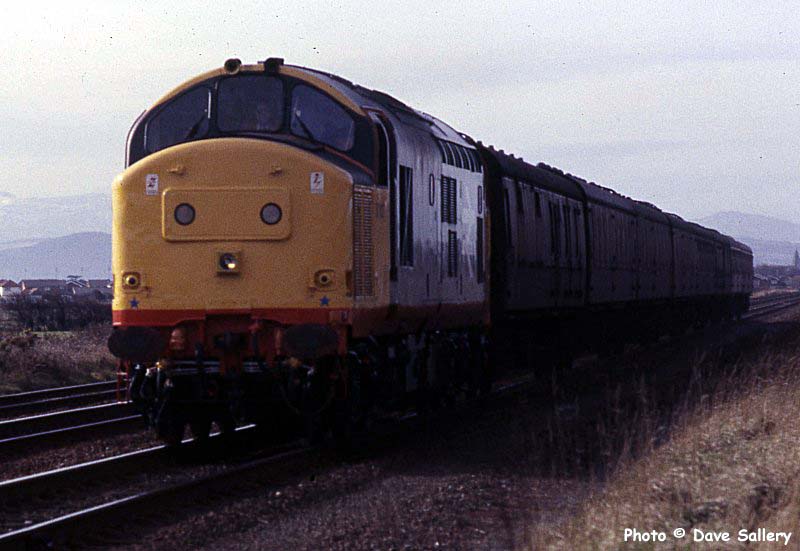 37127 in Railfreight red stripe livery, between Rhyl and Prestatyn, 15th of February 1988. A covering of snow is on Carnedd Llewellyn on the left of the photo.
---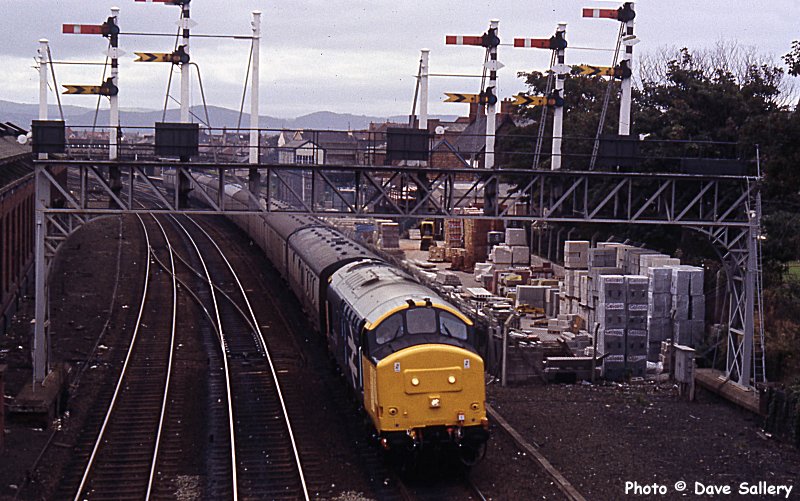 37409 passes the carriage shed at Rhyl on 17th September 1985 returning to Crewe after its first outing since fitting of ETH equipment. The carriage shed, which was trackless by this date, was demolished later that year. In its place are the two seldom used engineering sidings. The splendid signal gantry was removed when the layout was remodelled in 1991. 37409 is one of the very few 37/4's which didn't appear on the coast during the 37's passenger years of 1993 - 2001.
---
First of the refurbished Class 37's for Railfreight No. 37501 stands in Platform 3 at Rhyl on 22 April 1986 after running round its Crewe Works test train. Platform 3 was to the south of the existing Platform 2 at Rhyl and formed the other face of the island platform. It was taken out of use shortly after and the area was eventually incorporated into a Co-op Pioneer Supermarket which opened in 1989, the Co-op was closed in January 2000 and has since been rebuilt for Morrisons. 37501 is now numbered 37601 and is owned by Direct Rail Services, it now appears in North Wales on nuclear flask workings. It was once one of a number of 37's acquired by Eurostar to haul the, never to be, overnight trains to the continent.
---
In September 1987 Railfreight were about to launch their new sector based livery style. In order to keep the livery under wraps until launch day, a number of Class 37's were sent out on test in grey undercoat. This is 37892 running round its train at Rhyl on September 17th 1987. Rhyl yard was lifted a year later.
---
47710 and 47519 enter Rhyl, returning to Crewe, 16th August 1995.
---
Railfreight red stripe liveried 37680 heads westbound through Abergele on May 8th 1987. After release from Crewe Works this loco was allocated to aggregates traffic from Buxton.
---
47547 in Network South East livery and 47741, head up through Colwyn Bay, 26th May 1995.
---
47747 "Res publica" is on test with 47566 as train loco seen leaving Llandudno Junction on June 17th 1994.
---
The mid day boat train to Holyhead was another popular train for testing locos. 56088 is seen here at Bangor with 47620 "Windsor Castle" as train engine. The loco on test normally returned light engine from Holyhead. July 3rd 1987.
---
Next page - DMU's in focus