The Railways of North Wales - Changing trains: page 9
---
Freightliners to Holyhead 1971 - 1991
Freightliner trains were once a common sight on the North Wales Coast Line. Services started in the early 70's and there were normally 4 trains each way daily loading up to a maximum of 25 wagons. At Holyhead the terminal had its own signalbox and purpose built ships served both Dublin and Belfast. The service was withdrawn in March 1991 as unprofitable and the Freightliner terminal was redeveloped as a vehicle parking area for the Stena HSS service. Services were initially diverted to the Cawoods terminal at Ellesmere Port and, following that terminals closure, transferred to Seaforth, Liverpool.
---
47196 is stopped in Chester for a crew change, 11th of June 1985.
---
47218 passes Greenfield on May the 4th 1989.
---
47330 recovers from a signal check on its way to Holyhead - May 2nd 1989. By this time the Courtaulds textile factory, in the background, had closed and was in the process of demolition.
---
47437 on a lightweight up evening liner at Holywell Junction, 27th April 1990.
---
"The Duke of Lancaster" is in the background of this view of 47293 on the 1st of August 1989.
---
Class 47 No.47555 The Commonwealth Spirit heads a fully loaded Holyhead - Crewe Freightliner through Mostyn on the evening of the 5th of August 1988. This locomotive was associated with the North Wales coast for many years and was used indiscriminately on Inter City or freight trains, a situation unknown in today's railway.
---
A clean 47162 heads west at speed past Talacre signalbox on June 26, 1985. In the right foreground can be seen "Dick the lamps" vital barrel of signal oil. Since this picture was taken the junction at Talacre has been relaid as a facing crossover. 47162 was'nt long for this world as it was withdrawn from traffic in January 1987 and was cut-up at Crewe Works during May of that year.
---
40122, recently repainted in original green livery and carrying its old D200 number, comes up through Prestatyn on a Crewe bound freightliner - 10th of June 1985. D200 is part of the National Collection and upon withdrawal from traffic it went to the National Railway Museum, York.
---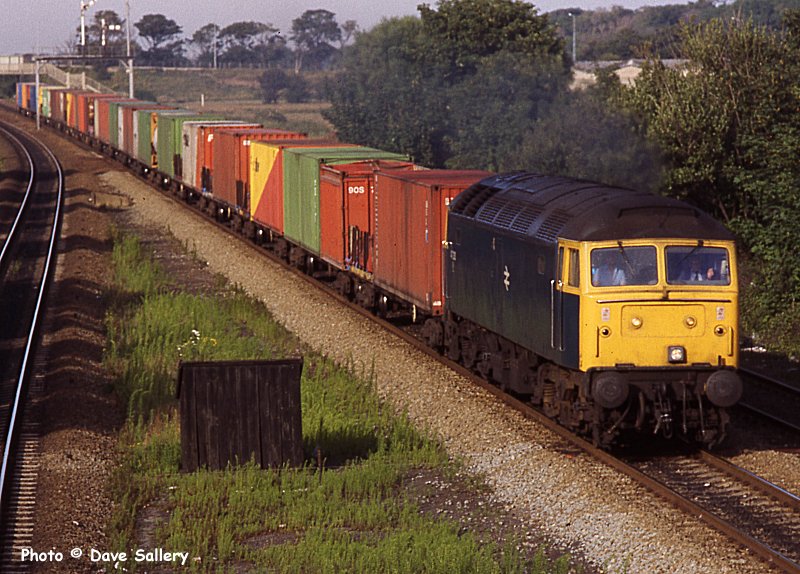 47330 westbound through Prestatyn, 19th of July 1989.

---
Class 45 Peak No. 45043 brings the Lawley Street - Holyhead Freightliner through Prestatyn on the sunny evening of July 16, 1984. At the time this service was always hauled by a Peak. The now lifted slow line is seen to the right of the train.
---
47199 at Prestatyn, 7th of August 1984.
---
Super power at Rhyl as 47123, 47356 and 47445 pass on a westbound liner, 28th of July 1990.
---
47615 "Castell Caerffilli / Caerphilly Castle" heads an evening liner west through Rhyl on July the 4th 1989. At this time there were still four tracks through Rhyl and No. 2 signal box, on the left, controlled the West end of the station.