The Railways of North Wales - Changing trains: page 16
Diesel Multiple Units in focus - page 2
---
A reminder of an experiment conducted when the Class 158 units were much younger. As these trains have disc brakes they are unable to clean leaf mulch off their treads, it was decided to modify a group of units to operate with a Class 156 vehicle - which have tread brakes. One of the 156/158 combo units is seen passing Prestatyn on a Manchester working on October 23rd 1992. Whether or not the experiment was a success is debatable as it has not been repeated.
---
A Swindon built Class 120 is seen at the head of a typical mixed formation leaving Prestatyn on June 24th 1985. The centre car is from a Gloucester built class 119 unit. Such cavalcades of mixed formations were a common site in the summer. The class 120's were cross country units and their better accommodation made them more suitable for the line than some of the suburban units used.
---
Brand new 150102 passes Prestatyn on a crew training turn - 18th November 1985. Hard to believe these units are now over a quarter of a century old.
---
One of the last surviving Gloucester built Class 100 units is seen dumped in Rhyl goods yard in September of 1983. These units arrived on the coast in the mid sixties to replace the last steam workings. Basic and utilitarian, they were a poor substitute for loco hauled vehicles.
---
Some years before the green class 101 unit appeared, this Class 108 was a familiar sight on the coast. It is seen here working a Bangor - Crewe service at Rhyl on 19th July 1988.
---
Three class 150/2 units - 230, 220, and 222 pass Kinmel Bay on 20th March 1987 on a trans Pennine working to Bangor. The units were only in service for a few weeks before full yellow ends were applied.
---
One of the dreadful 4 wheel Pacer units No. 142027 at Llandudno Junction on the 21st of April 1988. The unit is in "skipper" livery, evidence of its original allocation in the West Country.
---
With Conwy Castle forming the background, a class 108 is seen on a local service to Holyhead on February 17th 1991. The two ballast wagons are standing on the quay line which has since been lifted.
---
A class 108 passes Conwy Castle on a local train to Bangor on February 28th 1987.
---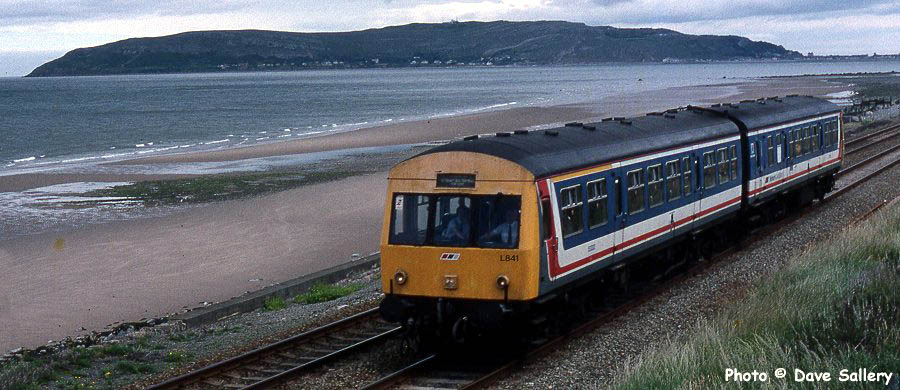 Network South East liveried L841 near Penmaenmawr, 27th June 1994. A rather moody looking Great Orme is in the background.
---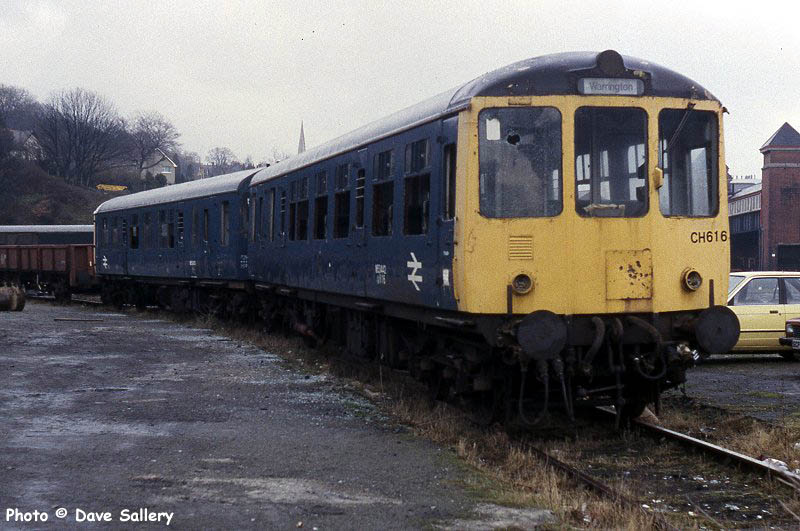 Withdrawn Class 104 unit No. CH616 is seen stabled in Bangor goods yard on March 6th 1991. The unit is somewhat the worse for wear having been used for an emergency evacuation exercise the previous weekend. The DMU was towed from and to Chester depot to partake in the simulated train crash in Bangor tunnel.
---
A 101 enters Holyhead on a stopping service from Bangor on 23rd October 1984. The signal in the foreground, the last LNWR signal in North Wales, was replaced shortly afterwards.
---
Next page: Class 45's - the Peaks