Woodhams of Barry
---
London Midland & Scottish Railway locos.
No 41313 is an Ivatt designed 2-6-2 tank built from 1946 onwards. These were introduced to rid the sytem of some of the Victorian era locos then still in use on local passenger services. A total of 130 were built.
---
42968 is a Stanier designed 2-6-0, next to it is an Ivatt 2MT 2-6-0
---
No. 43924 was an example of the Midland Railway's standard freight engine, an 0-6-0 introduced from 1911. These locos continued to be built by its successor, the LMS, and despite their obsolete design continued in traffic almost to the end of steam.
---
These locos were the heavy freight haulers of the LMS - Stanier's 8F 2-8-0's. Introduced from 1935 they were amongst the last steam engines withdrawn at the very end of steam in August 1968. A total of 666 were in traffic in the 1950's. With most of its motion missing, this is 48173.
---
47406 is a Fowler 0-6-0 shunter, the chalked message reads "Pride of Edge Hill". Next to it is BR standard class 4 4-6-0 75069.
---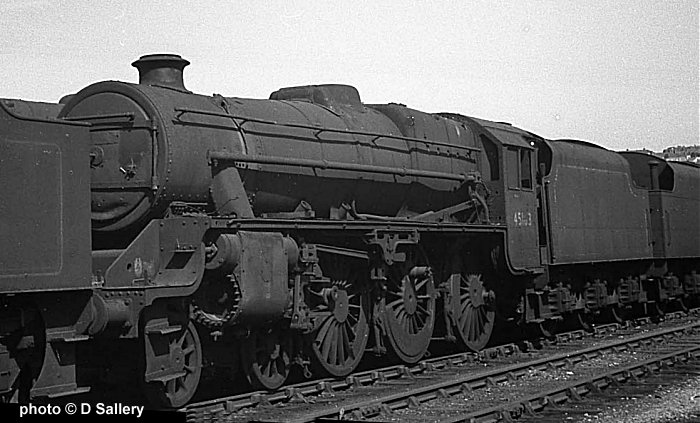 One of the most successful steam classes of all time were the Stanier class 4-6-0's. Built from 1934 onwards, no fewer than 842 were built. This example is an early casualty of modernisation - No. 45163. This engine is currently being restored on the Colne Valley Railway, Castle Hedingham, Essex.
---
Next page - BR standard classes