The Cambrian Rail Cruise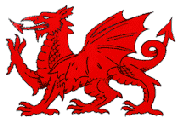 Comments page

---
Below follows some feedback I have received on passengers experiences
of the circular tour. Please send me comments on your journey.

Charles Ball, June 2016

My son and I did the Ffestiniog Round Robin a couple of months ago, as I unexpectedly had a day off work. The weather was chilly first thing, which is why we got an earlier train from Smethwick Galton Bridge to Wolverhampton, and then ended up standing as far as Telford Central with commuters filling the train to that point. We were held up near Flint due to signalling and had to do a quick scamper over the footbridge at Llandudno Junction but made the connection OK. When we arrived at Blaenau Ffestiniog the weather was glorious and David Lloyd George was still changing ends for the journey to Porthmadog so there was plenty of time. After Jon had spent some time filming DLG being coaled and watered etc., we walked to Porthmadog Station and returned down the Cambrian Coast. When we reached Aberdovey you could see the whole of the coast to Pwheli.
Chris and Lorraine, October 2012
My wife and I did the round robin just as you describe and equipped with a print out of your description had a wonderful day out yesterday. The weather was perfect with clear blue skies for the most part and excellent views. The return from Shrewsbury was in the dark...but I guess that is the least exciting part . One day I would like to do the same trip again over a few days to explore some of the towns en route. Thank you!
---
David Birkby, September 2011
A friend and myself did the tour on the 15/09/2011 using the North Wales Rover all zone ticket and (we cheated !) our bus passes. As we live in Tywyn we did the anti clockwise route, as the connections were better this way. 7.16 Tywyn to Shrewsbury (plenty of room on the train, 4 coaches Machynlleth to Shrewsbury). Arrived in Shrewsbury on time - bay platform no 5. We had to go out of the station to get to platform 3, so we had a half hour walk around Shrewsbury. Left Shrewsbury at 10.23 (a 2 coach class 158) which was very full as far as Chester, it was not so busy for the remainder of the journey to Llandudno Junction where we arrived on time at 12.14. We left Llandudno Junction at 12.28 on a class 175 for Llandudno where we had time for lunch on the promenade before catching the 13.22 to Blaenau Ffestiniog. This train was a 2 coach class 150, as it was a warm day the windows were open so the ride was quite noisy caused by rail squeal , it was also quite a bouncy ride. We arrived in Blaenau early and decided not to go on the Ffestiniog Railway as their service missed the Coast Line connection at Minffordd by 8 minutes and that would have meant almost two hours to wait for the next train. We took the Express Services bus to Porthmadog arriving at 15.13, giving plenty of time to catch the 15.58 train back to Tywyn and arrived home on time after a good day out.
---
Roger Marsh, August 2009
I have read many of the compliments with regard to the "Cambrian Rail Cruise" from your website, but I am afraid I have to record a disappointment and to be balanced I feel you should show it along with the other comments. I started my journey at Lancaster and bought a "Ffestiniog Round Robin" day rover ticket on August 26th at Crewe. I arrived at Blaenau Ffestiniog via Llandudno Junction at 11.33. I decided to travel on the Ffestiniog Railway train at 13:40 to Porthmadog (arriving 14:50) in plenty of time to connect with the 15:56 main line train which would get me back to Crewe and thence Lancaster. To make a long story short that train was so late into Porthmadog that I missed the connection and there was no way I could get back to Lancaster that day had I taken the later train from Porthmadog at 18:02. Thankfully, I could retrace my steps to Blaenau Ffestiniog by service bus and return to Lancaster via Llandudno Junction. The net result is that I wasted money in buying that type of a ticket in the first instance which I was not able to make full use of and I missed some glorious scenery by not having been able to take the mainline train from Porthmadog. It could have been worse I suppose, I could have been faced with an overnight stay somewhere, not only adding to my expense but also to my overall disappointment. Quite frankly the Ffestiniog Railway ruined my travel plans and ruined my day.
webmasters note: I recommend taking the 11.50 train from Blaenau Ffestiniog to Porthmadog as Ffestiniog Railway punctuality can be patchy at times.
---
Mrs K Jelfs, June 2009
We did the trip last Tuesday and had a great day out, started from Hooton at 8.40am and returned to Hooton at 8.50pm. The only hold-up, and that was only 10 minutes was at Llandudno Junction awaiting the Holyhead train which was running late. Everything else ran like clockwork and the weather was fantastic, sunshine all day long, which added to our pleasure. Short time in Porthmadog so we had tea and sticky buns in the department store, I've forgotten its name but it has a lovely upstairs cafe at the top of a fantastic cantilever wooden staircase. The only downside was sharing the train from Harlech with a horde of school children who were on until Aberdovey, we were just thankful they weren't going on until Shrewsbury! At Shrewsbury we stopped off for a meal and a walk around the town before catching the 7.30pm train to Chester. Have done this tip previously but the other way around and enjoyed both tremendously, would recommend it to anyone. Got home tired but happy.
---
Mr P Jones, August 2005.
Never having travelled around the whole circuit, I decided to do the clockwise trip. I left Llandudno Junction on an earlier train, the 0832 to Crewe and changed there instead of Chester. This gave me more time in Shrewsbury to go out and get some food.
The Cambrian service came in about 10 mins late from Birmingham and it was formed of 2 Class 158 units,both in green Arriva livery. There was a trolley service on the train as far as Machynlleth. The train split there with the front unit going to Aberystwyth and we left nearly on time. I would like to tell people to sit on the left side of the train looking forward as I did. This gave excellent views all the way to Porthmadog.
Ninety minutes is long enough in Porthmadog to have a good look around. The Ffestiniog Railway train, hauled by Blanche, left Porthmadog about 10 mins late but we arrived in Blaenau in good time for the Conwy Valley service. This got me back to Llandudno Junction on time after a most enjoyable day. I would recommend this trip to anyone for its excellent value and wonderful scenery.
Blanche takes on water and oil at Porthmadog Harbour station.

---
Rowan Crawshaw - April 2003
I did the 'Cambrian Rail Cruise' tour of North and Mid Wales on 5 April. I rode the 07:25 from Bangor to Crewe behind 47746, this is one the few Saturday Class 47-hauled trains remaining.
The picture shows this train with 47 746 "The Bobby" arriving at Bangor. It terminated at Crewe on this day due to engineering work near Birmingham. I had an hour to wait in Crewe before catching the Manchester - Penzance Class 158 to Shrewsbury which was the only busy train of the day, all the other trains being quiet. I had 45 minutes to wait at Shrewsbury before catching the 11:34 to Machynlleth.
above, 158 850 departs Machynlleth for Aberystywth. I then caught the 12:53 from Machynlleth - Pwllheli. I then rode the 14:59 from Pwllheli back to Porthmadog.
(above, with 158 853)
then walked to the Ffestiniog Railway for the 16:00 to Blaenau Ffestiniog which was the last Ffestiniog Railway train of the day.
The picture shows the FR train at Porthmadog, with the unique single Fairlie Taliesin ready to depart. I was delayed at Tanygrisiau for 15 minutes due to loco problems, and had to rush at Blaenau Ffestiniog to catch the 17:26 to Llandudno Junction. My final train was the 18:41 to Bangor which was a 175. It was a good day out and all of the National Rail trains were on time.

---
Charlie Hulme - September 2002
The 'North Wales Coast Land Cruise' in various forms has been a favorite of holidaymakers for many years; September 1 - 6 2002 saw Joanna and I taking a turn by service train around the present-day version. The following notes chronicle some of the rail-related events of our week. We have arranged them in geographical order rather than by the actual time of each trip.
We started at Stockport on the afternoon of Sunday 1 September, where very strange things were going on: it appeared that the overhead power lines were turned off between Stockport and Manchester Piccadilly, requiring all trains to be 'dragged' by a diesel over this 6 mile section. The picture above shows 47 635, possibly the last surviving EWS Class 47/4, about to be detached from an up train. Exactly which train was which was hard to determine: while 47 635 was being detached, a second London-bound train arrived in Platform 1 behind 47 810 Porterbrook. Both trains had their electric locomotive already attached at the rear as is normal. Pity the passengers on these trains, who still faced a bus trip between Milton Keynes and Hemel Hempstead before reaching London. We became concerned that our Wales and Borders train to Shrewsbury would be delayed by all this, eating in to the one hour available for a meal at Shrewsbury, but in the event our departure was only a few minutes late on the booked time of 14:31.
The W & B train to Cardiff (terminating at Shrewsbury with onward bus connections due to engineering works) was allowed an hour for a non-stop run from Stockport to Crewe rather than the normal half hour, which seemed puzzling. The puzzle was solved when we took the left-hand line at Cheadle Hulme and ran through Macclesfield to stop in the through line at Stoke-on-Trent station. After waiting for an all-stations Central Trains service to Crewe to depart ahead of us, we then reversed and retraced our path all the way to Kidsgrove before taking the route via Alsager to Crewe, where we had to reverse again before arriving at Shrewsbury just a minute or two late on the booked arrival time of 16:18. Just time to walk up the hill to the Deep Pan Pizza establishment, buy a takeaway and eat it in the sun on a nearby bench before returning for the 17:20 train to the Cambrian Coast, the last train of the day as far as the Pwllheli line is concerned.
This train was formed of two two-car 158 units, and is shown in the printed timetables, as having portions for the Aberystwyth and Pwllheli lines, but there was no information to this effect on display, although when I asked the driver he advised us to sit in the rear two cars. Later, when the guard was asked by passengers, the guard said he could not be sure that any coaches were going through to Pwllheli, but he would be told on the radio at Talerddig and would announce then what would happen ... and indeed we were told at Talerddig that Aberystwyth passengers should move to the front two coaches. Which of course raises the question of how you know which coach you are in! This all seems very strange, since the whole point of through coaches is that you sit in the right one from the beginning.
Anyway, back to the Cambrian Coast circuit, and here's a view of Tywyn, the first passing station after heading north from Dovey Junction, with two trains about to cross. North of Dovey Junction the line is worked by the Radio Electronic Token Block (RETB) system, which requires no fixed signals except point indicators, and the crossing loop points are all sprung so that trains can travel through them without any need for an operating mechanism. Tywyn also has a siding controlled by a ground frame which can be seen in the picture.
Tywyn is the terminus of the narrow-gauge Talyllyn Railway, whose Wharf terminus is a short walk from the main line station. A ride on this very friendly little line is heartily recommended. Here locomotive No. 2 Dolgoch, which entered service in 1866 although much-rebuilt since, awaits departure. This side of the loco carries the name Pretoria, which it apparently carried at the time of the Boer War.
Arrival at the Talyllyn's Nant Gwernol terminus, starting point for some very interesting woodland walks with added industrial archaeology; the winding drum for the rope-worked incline which carried the wagons beyond here remains intact with its associated braking mechanism.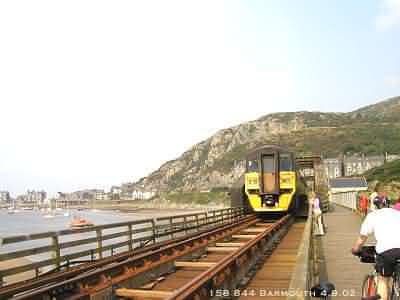 Back on the Cambrian Coast Line, and its most famous landmark, Bont Y Bermo or the Barmouth Bridge, seen here with 158 844 on the 11:54 Barmouth - Machynlleth. A pathway runs along the landward side of the bridge, which crosses the estuary of the Mawddach river ...
Barmouth bridge seen from a thoughtfully-provided viewpoint on the Barmouth side, with the Barmouth lifeboat on its station alongside. The Cader Idris mountain range forms the backdrop.
The view towards the town from the same point. Since operation of the Cambrian lines were transferred from Central Trains to Wales and Borders Trains in 2001, all services have been worked by Perkins-engined Class 158s in the batch 158 844 - 862, transferred from Central and retaining the garish Central Trains livery except for a Wales and Borders name vinyl. The 150's, 153s and 156s which once shared the services have now been transferred away.
158 854 departs from Barmouth, pushing its way through the sprung points south of the station.
North of Barmouth the line takes to the sea wall, frequently battered by high winds and tides.
In rather better weather, a train formed of 158 844 departs from the request stop at Llanaber.
Porthmadog, as well as being a pleasant town with good shops, has three railway stations. As well as the main station on the Cambrian Coast route, there is also the Welsh Highland Railway (Porthmadog) station and the Harbour station (shown here with locomotive Linda) of the Ffestiniog Railway. The true circular tour continues by Ffestiniog train, but as the morning train from Machynlleth arrives at the interchange station at Minffordd ten minutes after the FR train has left, we had to content ourselves with an Arriva Cymru bus from Barmouth to Blaenau Ffestiniog.
Here is Blaenau Ffestiniog in the rain, with 153 367 forming the 11:43 to Llandudno. These single-car trains often show themselves inadequate for the traffic on this line, the small luggage area on this one struggling to contain a bicycle, a baby in a pushchair and six large backpacker rucksacks.
The next leg of our journey was by the 14:02 Holyhead - Birmingham, one of the very few Class 47-hauled trains now remaining in Britain, seen entering Platform 3 at Llandudno Junction. We hope you have enjoyed this report. There are many more things to see and do around the circuit - even a week is'nt long enough!

---
Phil Warner, May 2002.
Encouraged by your site we went on the anticlockwise tour of Wales on thursday 16/05/02. Leaving Stockport on the 07;59 train to Chester via Altrincham arrived into Chester at 09:14, just time to get a rover ticket and onwards to Llandudno junction to arrive at 10:15. Time for a coffee then onto the single carriage unit to Blaenau, complete with 30 kids on a day out to Betws y Coed! Arriving late into Blaenau due to the train stopping outside Blaenau tunnel to cool down. Caught the Festiniog Railway in time. It was a long train of about 8 carriages. The weather by this time was quite warm and humid, so windows were opened for the trip down to Porthmadog to arrive at the advertised time of 13:10. A leisurely 30 mins walk to Porthmadog B.R. station to find there was a train to Pwllheli at 14:20. While waiting had a generous ploughmans at the Welsh Highland railway cafe. The train to Pwllheli arrive 10 mins after time,so we got on it then came back to Porthmadog and onwards to Mack`, surrounded by school kids between Harlech and Barmouth. We arrived at Dovey junction 15 minutes late at 17:05 and were told the train for Aberystwyth would be along soon. After 10 minutes waiting one of the other people waiting phoned Mack` and was told it will be here in 30 mins. It did turn up so we carried on to Aber`. Coming back we arrived into Mack`at 18:38, 30mins later than advertised. The guard on the Wales and Borders train apologised for the delay. The journey from Mack` to Talerddig - the summit and passing place - was marked by the train gradually coming to a halt, waiting 5 mins and starting off again. This happened 3 times then when we got to the summit we had to wait 10 mins for the service from Shrewsbury to pass. From then on we were gong downhill all the way to Shrewsbury getting in at 20:20, 50 mins later than the advertised time. The guard apologised for the delay. At Shrewsbury there was a late running Chester via Wrexham train so we arrived at Chester at 21:20. At Chester the next train to Stockport was the 22:08 via Warrington to Manchester Piccadilly,which returned via Stockport and Altrincham to Chester. Finally arrived back at 23:35. A long day but very enjoyable.

---
Mr M Cherry, July 2001
I did the North Wales Circular tour at the start of July from Bramhall (and therefore missed the section from Shrewsbury to Chester), first of all catching a 323 into Manchester Piccadilly where I boarded a 175 to Llandudno Junction. As we travelled along the North Wales Coast it started getting misty and I started thinking that maybe I would not get the views I had hoped for. A group of about 10 pensioners who also appeared to be doing the circular tour boarded at Rhyll. At Llandudno Junction I changed onto a heavily loaded (but with enough seats to go round) FNW 153 up the Conwy valley. As we moved away from the sea the mist cleared and the sun came out, doing full justice to the spectacular scenery. At Blaenau I bought a First class Ffestiniog Railway ticket and took a seat in the observation car right behind the loco, giving excellent views of both the mountains and the loco along the route. At Porthmadog I watched the loco being fuelled and watered and then had Fish and Chips for lunch before having a quick look around the town. Then I headed to the main line station, calling in briefly at the Welsh Highland Railway, which, had I realised earlier, I would have had time to take a trip on. Central Trains provided a 158 for the wonderful run down the Cambrian coast to Machynlleth . As we appoached Dovey Junction the sky became very black, and I therefore decided not to leave the station at Machynlleth, a decision which was justified as it shortly started to rain. There followed a very spectacular thunder storm with forked lightning flashing all around and heavy rain and huge hail stones. The signalling was briefly knocked out by the storm just as a train was about to leave for Aberystwth This was the unit which would form the train which I was to catch to Shrewsbury on its return working and it finally arrived back about 15 minutes late due to the storm affecting signalling and level crossings all along the line. I had a long connection at Shrewsbury so easily caught the Wales and West 158 back to Stockport.
All in all I had a really great day out with all but the Machynlleth to Shrewsbury train running on time into the bargain.