Irish railways in the 1990's
North of Dublin, page 1
001 on a Tara mines train at Malahide, 6 July 1994. The Tara zinc and lead mines are at Navan and are served by a branch line from Drogheda. Heavy freight trains continue to run between Navan and Dublin docks. Malahide is now the northern terminus of the DART electric network.
---
128 on the rear of a push pull set at Donabate, 1 October 1991.
---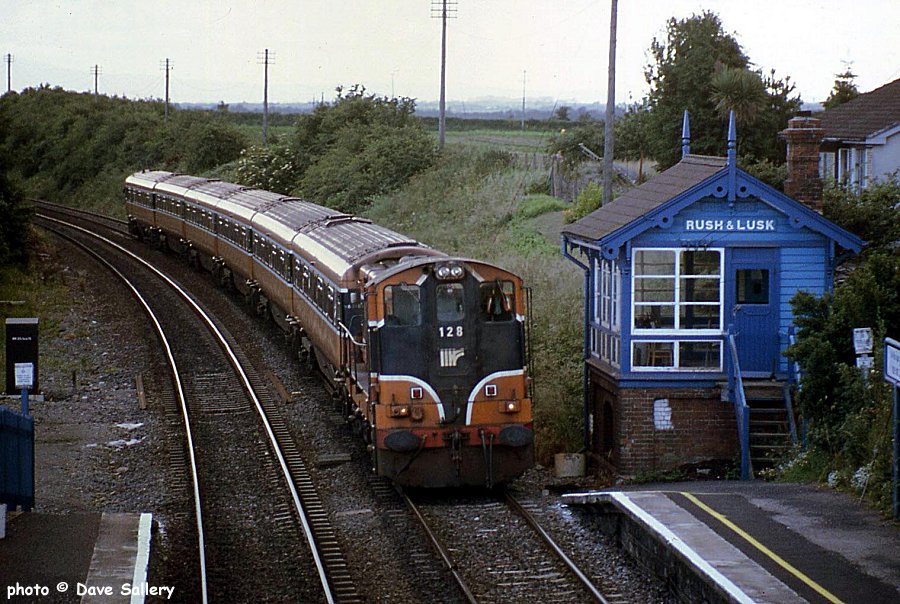 128 enters Rush & Lusk station, 6 July 1994. These small locos really struggled on 6 Mark 3's.
---
122 heading north meets 168 at Skerries, 1 October 1991.
---
217 on a northbound suburban working at Skerries, 17 June 1999. This train ran wrong line to allow it to be overtaken by an Enterprise service to Belfast.
---
A six car set of 2700 series railcars at Skerries, 17 June 1999. Twelve 2 car and 2 single car units were built by GEC Alsthom in 1997/98. The units have now lost their end corridor connections. Surprisingly, the entire class were withdrawn and put into store in 2012. More information here.
---
174 on a train of Cravens vehicles meets 175 on a northbound freight. Balbriggan 1 October 1991.
---
177 on a freight at Balbriggan, 1 October 1991.
---
Next page: North of Dublin, page 2