The 76cm gauge railways of Yugoslavia by Dave Sallery



Uskotracne (76-centimetarske) pruge bivse Jugoslavije
- autor: Dave Sallery
---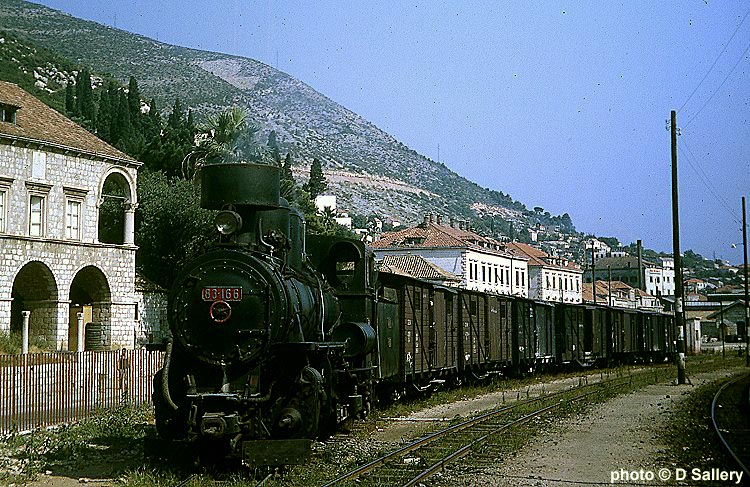 Class 83 0-8-2 No. 83166 is ready to leave Dubrovnik on a freight to Hum in 1967.
---
There are also photos on my Flickr site of Yugoslav JZ standard gauge steam locos taken in 1967 and 1968.
---
This website is primarily intended to be a celebration of the wonderful world which was Yugoslav narrow gauge railways in the 1960's and 1970's as seen through the eyes of railway enthusiasts.
There is a timetable page and route map for all 76cm lines appearing in the 1968 Yugoslav timetable book, a section recounts my journey to Dubrovnik in 1967 and another the present day appearance of the Dubrovnik line. Four pages are from Charlie Lewis. He has allowed me to use the photos which appeared in his four part article in Narrow Gauge World magazine in 2006. Jim Horsford has kindly provided details of a visit to Dubrovnik in 1972 while Helmut Dahlhaus recounts some of his numerous visits to Yugoslavia with a selection of excellent photographs. Other photos on the site, courtesy of Dr. E Scherer, show views taken between 1965 and 1970, some of these are highly detailed and ideal for modellers. Stuart Redding recounts his efforts to retrace the closed lines along the Adriatic coast in 2007 and Joao Braga has kindly supplied some fascinating photos of the JZ Class 802 diesel multiple units that went to Portugal. A further addition to this site is a wonderful selection of over 70 photographs by Detlef Schikorr featuring Donji Vakuf, Sarajevo and the Ostbahn.
The photos and slides used in this website were taken many years ago and the intervening years have not been kind to some of them, please bear this in mind when viewing the site. Also the political map of this part of the world has been redrawn following the tragic civil war in the 1990's, my apologies if there are errors in the text which may cause offence to those affected by these events - that is not my intention.
---------------------------------------------------------
Ova web stranica namjenjena je da slavi predivni svijet uskotracnih zeljeznica Jugoslavije 1960-ih i 1970-ih godina vidjenih ocima zaljubljenika u iste.
Postavljen je vozni red i plan voznje za sve 76-centimetarske pruge navedene u voznom redu jugoslavenskih zeljeznica 1968.g. Dio se prisjeca moga puta do Dubrovnika 1967.g. i pregled dijela iste pruge danas autora Damira Fejzagica. Cetiri dijela su autora Charliea Lewisa. Dopustio mi je da koristim njegove fotografije koje su objavljene u njegovom cetverodijelnom clanku izvrsnog magazina "Svijet uskotracnih zeljeznica" iz 2006.g. Jim Horsford ljubazno je u detalje opisao posjet Dubrovniku 1972., dok se Helmut Dahlhaus prisjeca nekih od njegovih brojnih posjeta Jugoslaviji uz izvrsne fotografije. Neke nove fotografije, ljubaznoscu Dr. E Scherer, pokazuju razdoblje izme?u 1965. i 1970.g. Neke od njih toliko su detaljne da su idealne za modelare. Stuart Redding prisjetio se svojih pokusaja da pronadje ostatke ugasenih linija duz jadranske obale u 2007. godini, a Joao Braga je ljubazno pridodao izvrsne fotke JZ serije 802 diesel motornih vlakova prodanih Portugalu. Novi dodatak stranici prelijepa je kolekcija od preko 70 fotografija Detlefa Shickorra snimljene u Donjem Vakufu, Sarajevu i na istocnoj pruzi.
Fotografije i grafike na ovoj stranici slikane su davno i vrijeme ih nije mazilo, imajte to na umu dok ih promatrate. Takodjer, politicka karta ovih prostora precrtana je u skladu s nedavnim tragicnim ratom. Ispricavam se zbog gresaka koje su mogle nekoga uvrijediti - to mi nije bio cilj.
---
Contents of this website
If you are aware of any sources giving further details about the system please contact me. Also if you have any photos of the Yugoslav narrow gauge available, I would be delighted to host them on this site.
---
IMPORTANT NOTICE
The information (not including the photographs) held within this website may be reproduced without permission if the website is credited with providing this information. All of the photographs held on this website remain the property of the owners and must NOT be reproduced without prior permission.
---