The Slate Industry of North and Mid Wales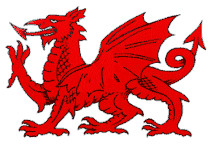 Photos from Caban, page 3
---
Waste rock being loaded into a rubbish wagon. The markers hanging from the ceiling are surveyors lines. They mark out the direction of the slate vein.
---
Using an EMCO rail mounted shovel. The introduction of such mechanical devices greatly eased working conditions.
---
A large slab, mounted on two rail wagons, is man handled to the foot of the incline. On the left a quarryman works a powered winch.
---
Four men are needed to push this slab across an underground bridge. Such bridges were common underground and were used to cross quarried out chambers. They were generally suspended from the ceiling of the chamber.
---
Another load to add to the mountains of tipped waste. The wagon is marked slab mill and will contain mostly sawn ends from the mill's saws.
---
Checking the roof of a chamber for loose rock.
---
Loaded wagons are seen waiting to be hauled to the surface. The incline leads up on the left of the picture.
---
Next page: Links to other websites