The Slate Industry of North and Mid Wales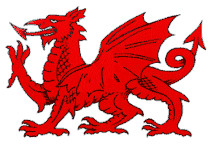 Melin Pant-yr-Ynn, Blaenau Ffestiniog
---
---
Melin Pant-yr-Ynn is the earliest surviving slate mill in Blaenau Ffestiniog. The mill was built in 1845 by the Dyffws Casson quarry to which it was connected by a purpose built road. The mill was equipped with a water wheel which drove sawing machines used to saw slate slabs. The mill was taken out of use by the quarry company in 1865. In 1873 it was converted to a woollen mill and used as such until 1964. Wool was taken there for spinning and weaving with a similar mill, Melin-y-Moelwyn in Tan-y-Grisiau, used for finishing. Since its closure the mill has been converted into a private house and was until recently the home of Falcon Hildred, a renowned local artist. The mill is currently equipped with a 24 foot diameter waterwheel which is unlikely to have been the original one. In 1990 the water wheel and sluice were rebuilt.
Nowadays the mill, which is grade 2 listed, is open to the public and contains an interesting collection of industrial artifacts recording the historic town, quarries and dramatic landscape of Blaenau Ffestiniog. The waterwheel can also be seen working, except in very dry conditions. The mill is open to the public but please ring 01766 830540 in advance of your visit. The admission charge is £3.00. The mill is located about 200 yards east of the A470 on an unclassified road near Bethania, on the outskirts of Blaenau Ffestiniog, LL41 3LZ, grid ref. SH 709 454.
---
Exterior views of the mill.
---
The well engineered road which connected the quarry to the mill.
---
The launder leading to the waterwheel.
---
The sluice and the waterfall, the water supply comes from Llyn-du-Bach high in the mountains behind.
---
Interior of the mill building.
---
Many of the drive wheels which formerly transmitted power from the waterwheel have been retained.
---
Detail of the waterwheel bearing.
---
Next page: Underwater at Dorothea Quarry
Return to: Aspects of the slate industry