The Slate Industry of North and Mid Wales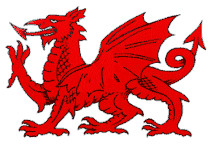 Felin Llechi - Pont y Pandy - Slate Mill
---
---
Pont y Pandy mill, also known as Ynysypandy and Nant y Pandy, near Porthmadog, was built to process slate slabs from Gorseddau Quarry about 2 miles away. A pandy is a fulling mill used in wool production and could refer to an earlier usage of the site. The slate mill was sited here due to lack of a suitable water supply at the quarry, a water wheel being used to operate the machinery. Pont y Pandy is an extraordinary building and looks more like a monastery than an industrial unit. The building is now in the care of CADW and is freely open to the public.
Gorseddau Quarry is notorious for being one of the biggest failures in the industry. Its no expense spared development included the building of a village, with 18 pairs of houses, known as Treforus. The quarry's life was but a brief eight years from 1859 to 1867. The lesson of Gorseddau was that slate was not always found where it was expected to be.
Gorseddau Quarry was connected to the mill and Porthmadog by the 3 foot gauge horse worked Gorseddau Tramway, the full history of which can be read here.
---
As built, with arched windows and an ornamental slate roof, this must have been a truly impressive building.
---
---
---
---
The waterwheel pit. The breastshot wheel was supplied by a launder from Cwm Ystradllyn.
---
The mill was served by tramways on the two levels seen here. The upper level is where the slate blocks went in for processing while the finished product would have left on the lower level.
---
The Gorseddau Tramway trackbed looking towards the quarry.
---
Gorseddau Quarry is seen through one of the mill window openings.
---
The small amount of waste rock in the tip is testimony to how little use this building received.
---
A view of the lower tramway trackbed as it leaves the mill.
---
Next page: Ceir gwyllt / Wild cars