The Wrexham to Bidston railway
'The Borderlands line'
---
Photo gallery page 6 - Some archive photos by "Concrete Bob"
40168 is seen in the exchange sidings of Castle Cement at Padeswood, near Penyffordd in 1982. At this time the works were despatching block trainloads to Oakengates, near Telford and Birmingham Curzon Street. as well as individual wagons to various points. All cement traffic now goes by road but the company still receive two trains a week of imported coal. One of the original presflo cement wagons is on display at Castle Cement's main entrance.
---
47309 is seen at Hawarden Bridge station on a trip working to Warrington in 1987. To the left of the train can be seen part of the steel works complex. Following the merger of British Steel and Hoogovens in 1999 the combined firm is now known as Corus.
---
Class 37 No. 37035 is about to pass Dee Marsh Junction signal box on an empty spoil train from the Wrexham direction in 1982. The connection from the yard, in the foreground has now been abolished as has the signal in the centre of the picture. This was originally a junction signal controlling trains heading for Chester Northgate or Bidston.
---
25064 is seen on a snowy winters day in Dee Marsh Yard in 1986. The train is formed of empty timber carrying wagons. To gain the main line all freight trains have to reverse out of the yard.
---
A British Steel owned diesel shunter is seen during 1985 in Dee Marsh yard, it is about to take a train of empty scrap carrying wagons into the steel works complex.
---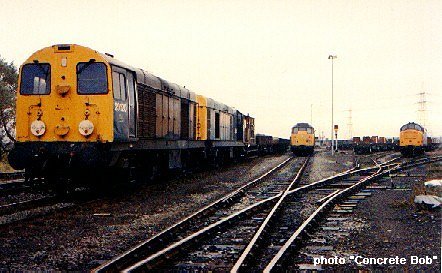 In a busy scene at the north end of Dee Marsh yard, a pair of Class 20's - 20120 & 20151 and a Class 31 are seen on engineering trains while 37906 is about to run round a train of empty coil carrying wagons. August 1989.
---
Class 08 diesel shunter No.08695 is seen near Blacon on August 1st, 1988. The train is recovering redundant sections of rail following the singling of this line.

---
To the photo gallery page 7