The Wrexham to Bidston railway
'The Borderlands line'
---
Penyffordd
Penyffordd is now the only signalbox between Wrexham (Croes Newydd) and Dee Marsh and has a crossover and rarely used sidings. These sidings once formed a connection to the Chester - Mold - Denbigh line. The passenger service on that line ended in April 1962.
---
56010 at the start of the climb to Buckley nears Penyffordd, 3rd June 1997.
---
60007 approaches Penyffordd on a long steel train, 25th July 2007.
---
Celebrity class 40 No. 40122, the original D200 and now preserved, heads the Conwy Crusader 2 railtour into Penyffordd on 21 April 1984. The train is bound for Crewe via the Mersey Docks line through Birkenhead, a route no longer in existence. Earlier in the day the train had visited Llandudno, Blaenau Ffestiniog and Holyhead. Notice the steam from the heating system issuing out of the back of the rear coach. The original tour proved so popular that this re-run was arranged.
---
37004 and 078 at Penyffordd on a loaded steel train, June 25th 1992.
---
101694 in Strathclyde Transport livery is on a Bidston service in August 2000. A number of these units were rendered surplus in Scotland and transferred to Longsight depot, Manchester where they saw out their final days on lines such as Wrexham to Bidston.
---
97302 and 304 are seen at Penyffordd on January 13th 2011. The pair were working a track testing train from Shrewsbury to Longsight and traversed the Borderlands line to Bidston and back. Photo by Tim Rogers.
---
37608 and 602 on the railhead treatment train at Penyffordd, 15-11-2005.
---
37219 on a wet 26th July 2000.
---
66219 on a coal train to Castle Cement on the evening of 4th June 2001.
---
60081 'Bleaklow Hill' making for Shotton, 17 10 1994.
---
The diagram in Penyffordd signalbox in 1993. The former connection to the Mold line is on the left and the Castle Cement sidings are on the right. Wrexham is to the left and Bidston to the right.
---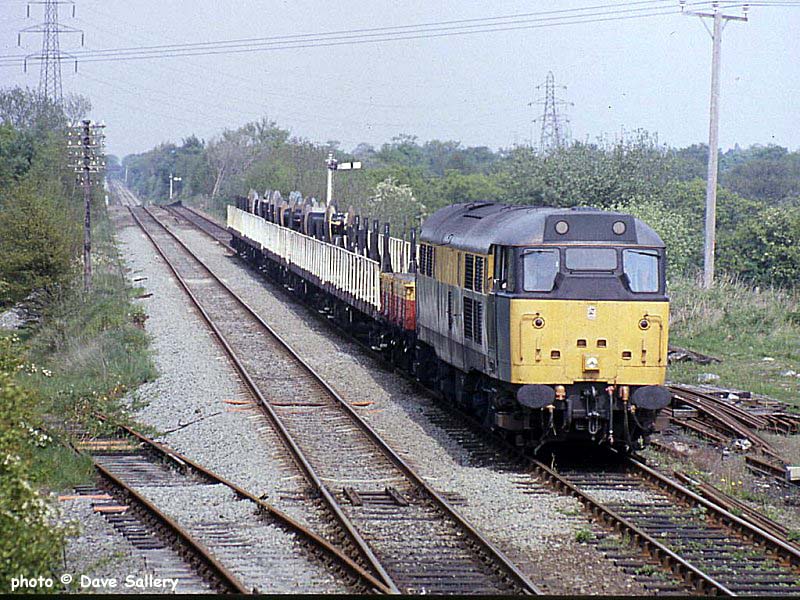 In a photo taken from the signalbox, 31188 heads for Wrexham in May 1993 on a train of empty cable drum wagons. The cables had been laid as part of the Merseyrail resignalling scheme. The former connection to the Denbigh - Chester line is seen at the bottom left. In the background the level stretch of track was once the site of Hope Exchange station and the platforms are clearly seen from passing trains. A short distance further on, on the left, is the connection to Castle Cement's Padeswood works.
---
Next page: Buckley and Hawarden