Rhyl & District Model Railway Club
Beaumont Ville
Modeller: Norman Beaumont
Beaumont Ville is a large fictitious town with two stations, this being the first, built in 1856 for the Great Western Railway. The town was first started in 1184 as a hamlet owned by Edward de Beaumont (hence the name), who was a Norman Lord. It remained a hamlet until the industrial revolution when, in 1794, a canal was cut.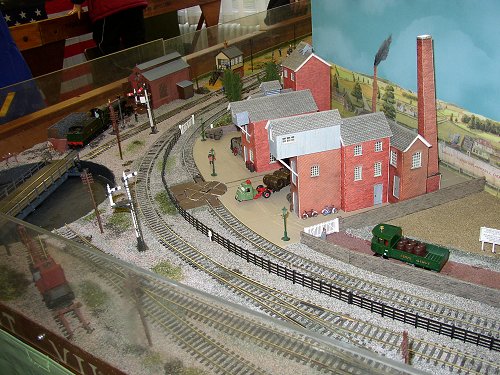 The railway line now carries farm produce, coal, cattle, hops and grain for the brewery and, of course, passengers. Trams have arrived in the street with the extension from the main system. The track is Peco streamline with a mixture of point radii. The station building, cattle dock, signals and signal box are all Ratio kits. Loco shed, level crossing and signal box are by Dapol, the brewery is by Metcalfe and Farm and barn are by Superquick. All other buildings are scratch built.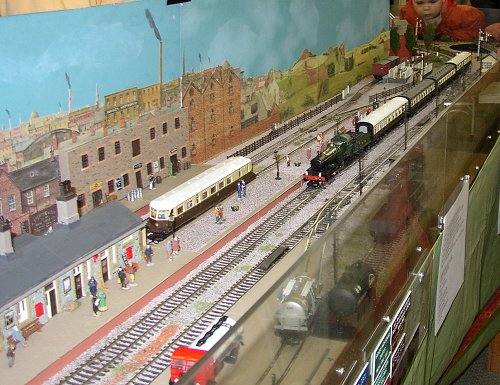 The turntable is a Peco kit and is turned by a mixture of Meccano and brass rods. Scenic backgrounds are a mixture of Townscene and Peco. Rolling stock is by Hornby, Airfix, Mainline, Lime and Dapol with some kit built stock as well. The layout is a frequent performer at exhibitions where it requires two operators.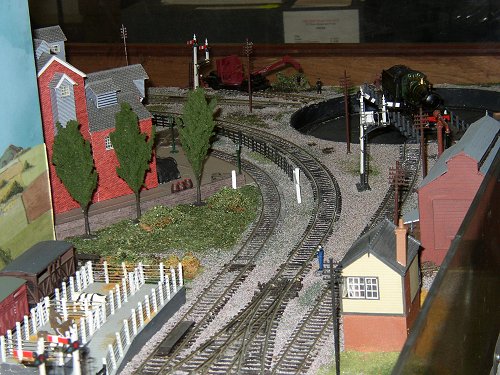 ---
Challoner Ville