Rhyl & District Model Railway Club
Kansas Grain
modeller: Chris Wild.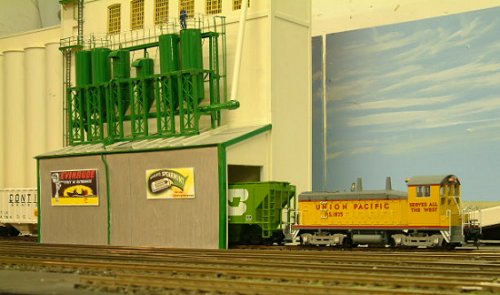 This "O" gauge layout is my first attempt at modelling American railroads. It is also my first foray into Digital Command Control (DCC). DCC allows so many opportunities for realistic operation, and also offers the addition of sound to enhance the realism of the layout. After all, locomotives are'nt exactly quiet are they? In diesel form, which is my choice, engine start-up, running and acceleration are all realistically reproduced, as well as bell, horn and coupler sound effects, each selected to suit the class of locomotive. If steam were being used, the full range of steam loco effects would be available with the module selected for the loco. My chosen system is digitrax but others are available.
Kansas Grain is a freelance design - imagine a small industrial switching yard in the state of Kansas, with a grain elevator, oil facility and fruit packing shed. all the structures have been cribbed from commercially available publications but have bben modified to suit my requirements.
Operation is constantly being revised and developed as we learn the possibilities. There will no doubt be glaring errors and deficiences to the American experts, but we aim to improve as time goes on. Constructive criticism is always welcome.
---
Chris's layout appeared at the Warley Show in 2005. Here club members Martin Wild
and Mike Loveless concentrate on operations.
---
New Pandora & Geirionydd Tramway