Rhyl & District Model Railway Club
The Llanasa & Bryniau light Railway
Modeller: Tony Williams
Pamela heads the miners train while Pam waits to shunt Bryniau lead sidings
The L&BLR represents a line that might have been built to link the coal deposits west of Llanasa with the extensive lead workings around Meliden and the Bryniau, just to the south of Prestatyn in North Wales.
Pamela simmers away in the sunshine
The track is mainly Peco SM32 pinned to wooden sleepers in brick or concrete foundations. Glan yr Afon trackage is laid on wooden battens discovered in the back of a friend's shed. Pointwork is all home made except for those at Gop Junction and Pandy.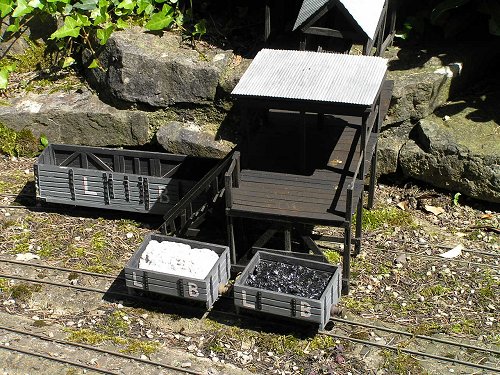 The coal loading point at Llanasa
With so much surrounding vegetation the track is ballasted in concrete so that a quick sweep with a stiff brush is all that is needed before running can commence.
Action near Glan yr Afon.
The buildings on the railway are bases upon local examples and are built of scrap timber faced with polystyrene tiles that are then scribed to represent stonework. Done with a soldering iron outside on a windy day to diffuse the fumes. This gives a speedy result that lasts if well painted.
A short freight at Promontory Point
Rolling stock is all scratchbuilt from scrap material as befits an impecunious narrow gauge mineral line. They are based loosely on originals from the Lynton & Barnstaple, Talyllyn, Padarn, Ffestiniog and other railways.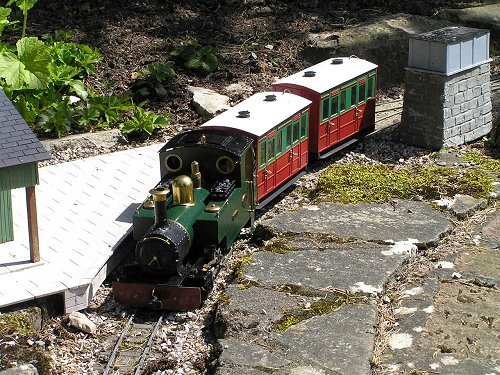 Cyril waits for custom at Gop Junction
The home based locomotive stud consists of:
| | | |
| --- | --- | --- |
| 1 | Cyril | kit built Roundhouse Lady Anne. |
| 2 | Pamela | Merlin Minstrel |
| 3 | Frankie | Friog battery powered diesel. |
| 4 | Squire | Resilient battery powered diesel |
| 5 | - | scratch built rail lorry |
Visiting locomotives include a wide and wonderful selection of the finest examples of the scratch builders art!
A busy time at Llanasa Junction
The miners train makes for Bryniau

---
Brian Orton's locomotives