Rhyl & District Model Railway Club
Neustadt
Modeller: Dave Sallery
Neustadt is a European H.O. layout set during the mid 1960's. Rolling stock is primarily West German (D.B.), although as it is quite near the French and Belgian borders, the opportunity is taken to run trains from "over the border". That's my story anyway and i'm sticking to it! The layout is approximately 18' by 12' and a double track loop runs right around. On one side is the major station with 5 platforms, marshalling yard, goods depot and loco shed. The other side of the layout features a small country station with adjacent saw mill and grain store (for the superb Raiffeisen Lager beer). Between the two stations is a brick and tile works at one side, the other side is modelled as farmland.
A view of the yard at Neustadt.

The grain store at Vorbisfeld.
This railway runs around the clock!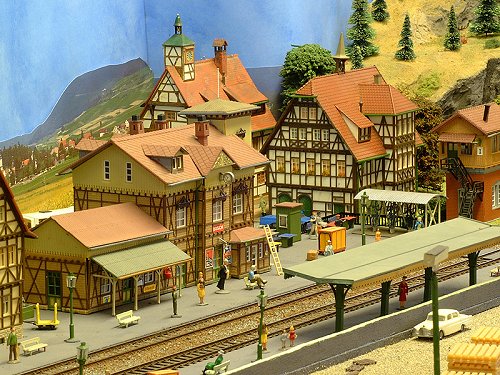 A view of Vorbisfeld station.
A class 98 compound mallet engaged in shunting duties at Neustadt.
The brick and tile works.
Although the above is written in the present tense, sadly, Neustadt is no more. A recent house move brought about its demise, however Neustadt 2 is in the planning stage. The photos above were taken by John Humphries.

---
North Park