Rhyl & District Model Railway Club
Vron
modellers: Dave Jones, Andrew Jones
This "OO" scale layout with a total length of 16' is set in North East Wales and represents a small GWR station with a connection to a local colliery. The actual Vron Colliery, inspiration for the layout, was near Brymbo and was sunk in 1806, it had a long and productive life before closing in the 1930's.
Vron station has a loop and a bay together with limited siding provision. This allows for the conveyance of a range of agricultural shipments and for the products of a local dairy to leave by rail. The extension to the colliery is a kickback from the station and this can make for some interesting shunting.
The colliery has loading and run round facilities and a small locomotive shed together with a steeply graded siding leading back over the branch line via an overbridge. Freight traffic is mainly worked by the traditional GWR 2-6-2 and 0-6-0 tank engines. While passenger services are normally in the hands of a 14xx auto train.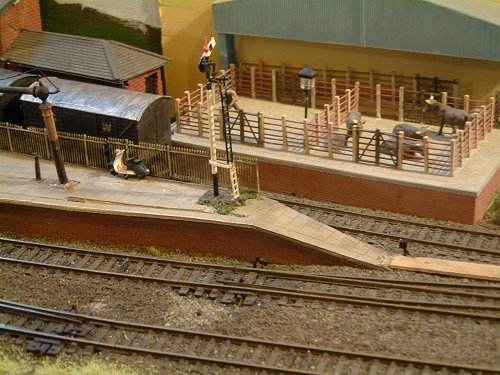 ---
The Koatanga Railway