The Railways of North Wales - Changing trains - page 1
The Associated Octel Company and the Amlwch branch
---
Associated Octel was an important customer of the railway from the opening of its Amlwch plant in the early 1950's until 1993. There was a daily Ellesmere Port - Amlwch and return freight which conveyed Ethylene Dibromide (grey tanks) and Liquid Chlorine (white tanks). A brake van each end was necessary as the train reversed at Hooton and barrier wagons were used because of the hazardous nature of the cargo. The other traffic to Amlwch was Raw Sulphur imported via Mostyn Dock. All of the above mentioned traffic was transferred to road haulage. In the case of the Chlorine because the H&SE objected to large amounts being stored at Amlwch. The line from Gaerwen to Amlwch closed when the Octel traffic ceased but efforts are being made by Isle of Anglesey Railways to reopen the route to passengers. The Octel plant in Amlwch closed in 2003 and has since been demolished.
---
Railfreight grey No. 47370 heads the Amlwch - Ellesmere port working through Amlwch on 15 February 1992. The section of line from the former passenger station to the chemical works was worked by A.O.C.'s own shunting locos as a private siding until the early seventies after which main line locos worked through to the works. This train left Amlwch in mid morning and recessed in Llandudno Junction until late afternoon. The return working arriving in Amlwch in the early morning.
---
An engineers inspection saloon is seen at Amlwch on 6th June 1992. The private siding to Associated Octel begins just past the loop in the background.
---
As with all lines due to be closed, a number of special trains ran in the last couple of years. Here we see 37218 and 261 on one such special passing Rhosgoch on October 16th 1993. The siding on the left was built in the 1970's when an oil pipeline was constructed from Stanlow in Cheshire. Trainloads of steel pipes for its construction were unloaded here. Oil was imported to the tank farm from an offshore mooring buoy off Amlwch until the 1980's. After construction of the pipeline the siding saw little, if any, use.
---
47513 is seen on the other end of the train near Llanerchymedd.
---
Another view of 47513 between Llanerchymedd and Llangefni working 'The Mabinogion' charter, October 16th 1993.
---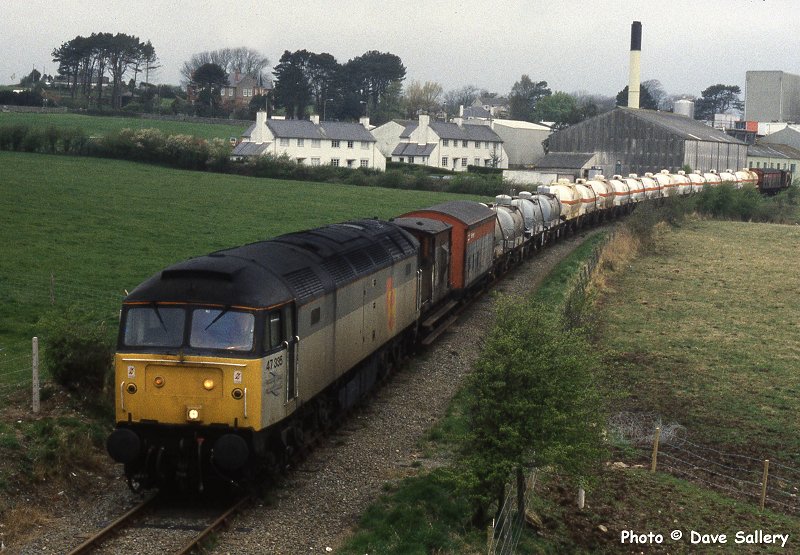 47335 passes the creamery at Llangefni, 18 4 92

---
20118 and 169 at the same spot on 11th September 1993.
---
37218 and 261 are seen near the junction with the main line at Gaerwen on October 16th 1993.
---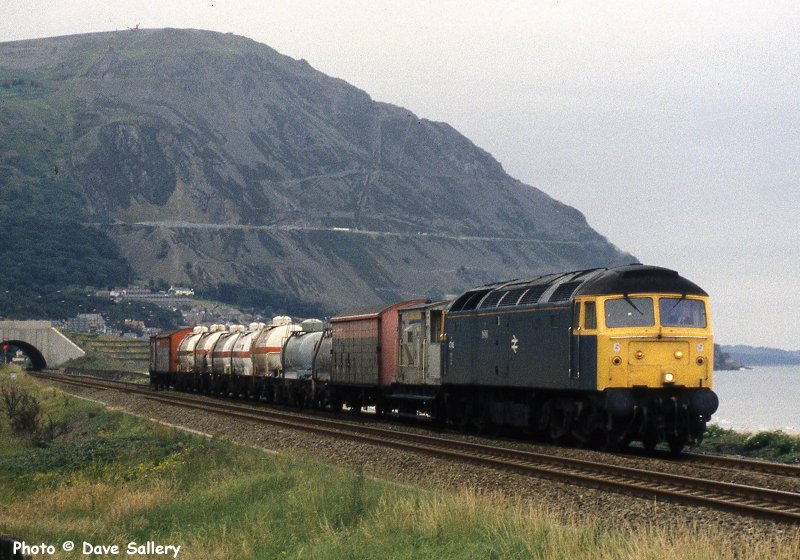 47146 heads past Penmaenmawr on its way to Ellesmere Port - 15th February 1988.

---
47245 passing Prestatyn box, 31 8 92

---
40181 heads the Octel service to Ellesmere Port through Prestatyn on the 17th of July 1984.

---
Next page: Sulphur traffic and Roadstone