The Railways of North Wales - Changing trains: page 6
---
Tribute to the Class 37's, 1993 - 2001: Page 3
With an hourly 37 hauled train each way and assuming everything was running to time, this scene was frequently enacted. Up and down workings cross on the Cob joining Llandudno Junction and Conwy - 25th July 1997.
---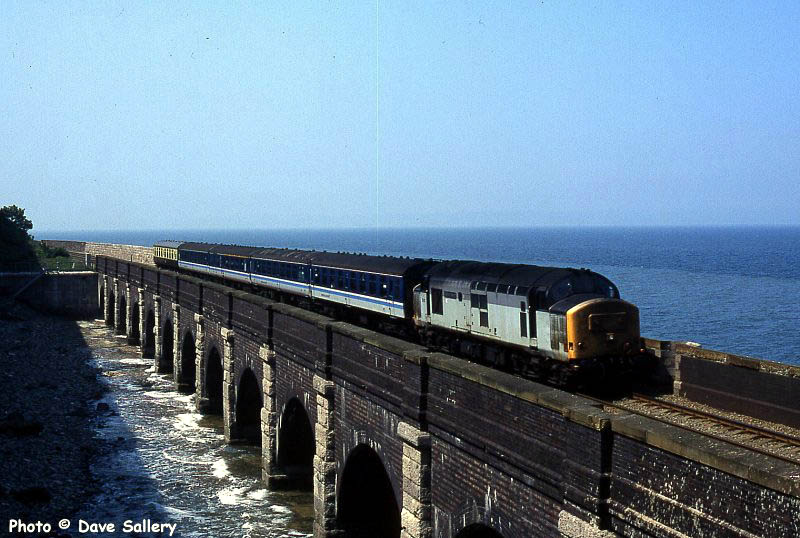 37417 "Highland Region" crosses Pen-y-Clip viaduct on a Bangor - Crewe working. 19th June 1996.
---
37142 hammers through Llanfairfechan on the "Irish Mancunian" for Manchester and Stockport. 20th July 1996.
---
An everyday scene at Bangor as coast regulars 37408 and 37429 pass on 5th August 1995.
---
37429 "Eisteddfod Genedlaethol" was a coast line favourite and clocked up many thousands of miles between Crewe and Holyhead. It is seen here at Bangor on its first outing after a major overhaul on May 14th 1996.
---
Many train crew required training on the Class 37's and loco hauled stock before their introduction. No. 37425 "Concrete Bob" speeds past Llanfair PG early in 1993 on a crew training special returning from Holyhead.
---
37421 passes through Bodorgan station on an up train on 9th May 1994.
---
37401 "Mary Queen of Scots passes the unique signalbox at Ty Croes on
a train from Holyhead. 1st August 2000.
---
37089 near RAF Valley on the 3rd of July 1999.
---
Class 37 loco hauled trains predated the arrival of Stena's HSS and the extensive changes it brought about. Before the inner harbour was bridged by a new road the Irish ferries tied up adjacent to Platform 1. With the "Stena Hibernia" in the background, 37414 "Cathays C&W Works" is about to couple onto a Crewe bound working, 10 July 1993.
---
37350, the original D6700, was called on to assist 37414 which had failed at Rhyl on December 22nd 1993. The pair are seen here after arrival at Holyhead. 37350 is now preserved as part of the National Collection.

---
In 1993, 37421 was moved to the derelict Freightliner Terminal at Holyhead for attention to its brake blocks. It is seen here over the wheelpit surrounded by encroaching weeds. The cranes in the background were about to be dismantled to be re-erected in Dublin. June 29th 1993.
---
Next page: Class 40 memories