The Railways of North Wales - Changing trains: page 21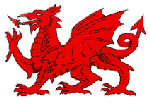 ---
Class 47 passenger miscellany - page 2
A view of the disused Connahs Quay power station as 47648 in large-logo blue livery passes with the 13.15 Holyhead - Euston boat train on 14 June 1988. The area that the power station occupied is now unused and the background today is dominated by the new road bridge and gas fired power station.
---
Today virtually all elements in this photo, except the track, have disappeared. 47850 heads the 11.30 Euston - Holyhead past Rockcliffe Hall signalbox on 15 April 1991. In the background can be seen Connahs Quay power station closed in 1982 and demolished in 1994. The early BR pattern signalbox was built in 1951 to control coal movements to the then new power station. The coal came from Point of Air colliery at Talacre. The signalbox was replaced by a portacabin structure due to construction of the new road bridge (opened 1998) across the Dee and a long tunnel was built to carry the railway under the road approaches to the bridge. Milepost 189 is now about 100m into the tunnel on the Chester side. A new gas fired power station has been built at Connahs Quay to the west of the original. Ironically the fuel for this still comes from Point of Air. The terminal there receives gas from a platform 15 miles out in the Irish Sea, it is then processed and sent to Connahs Quay. The new Rockcliffe Hall box should have a long term future as it is the location of trailing and facing crossovers. 47850 and the loco in the preceeding photo, 47648 are actually the same machine. 47648 was renumbered following the fitting of twin fuel tanks and various reliability improvements in the early nineties.
---
47445 near Bagillt, 2nd of July 1984. The Courtaulds factory in the background has now been demolished.
---
47475 in Provincial Services livery passes Holywell Junction, 8th of April 1989.
---
47489 passes the "Duke of Lancaster" on the 20th of April 1984. The vessel arrived in 1979 and was formerly a BR ferry employed on the Heysham to Belfast service.
---
47621 "Royal County of Berkshire" on a down express, 9 9 1988.
---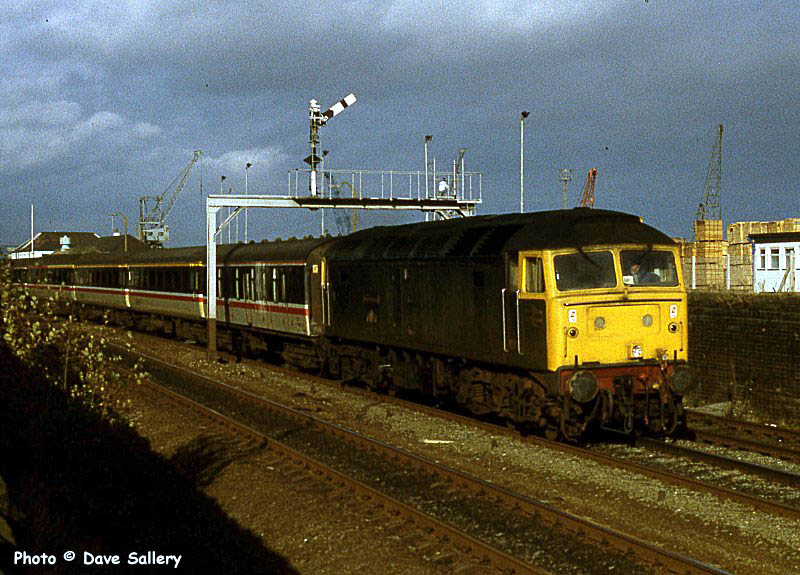 47500 "Great Western" passes under the signal gantry at Mostyn, 13 11 1990.
---
47410 on a trans pennine working at Mostyn, 24th of November 1986. The sidings contain hopper wagons
loaded with sulphur for Associated Octel in Amlwch.
---
47438 on the "Emerald Isle Express" on July the 2nd 1985. Behind the loco are two empty sleeping cars.
These returned, in passenger service, on the overnight boat train. The sleeping car service ended in 1986.
---
47829, in its unmistakable livery, at Ffynnongroew working the 09.15 Holyhead - Euston, 27 03 2002.
---
Next page: A class 47 miscellany page 3