The Railways of North Wales - Changing trains: page 26
Class 33s on the coast - 1985 and 1986
---
In May 1985 Class 33s from the Southern Region started to make daily appearances on the coast with two locos appearing daily. This came about by means of intricate diagrams involving Portsmouth - Cardiff and Cardiff - Crewe services. This constructive use of resources also saw 33s running to Milford Haven and Swansea. Their all too brief outings came to an end in September the following year.
---
33061 at Chester has just uncoupled from the Holyhead to Cardiff service on the 11th of June 1985 in preparation for running round the stock. Due to the Crewe remodelling this train was diverted to run via Wrexham to Shrewsbury.
---
33045 passes the now demolished Courtaulds factory at Holywell Junction on the afternoon Holyhead - Cardiff working of June 19th 1985. On the left is a block oil train from Herbrandston while the tankers on the right are from ICI Runcorn, they had arrived shortly before behind 45060.
---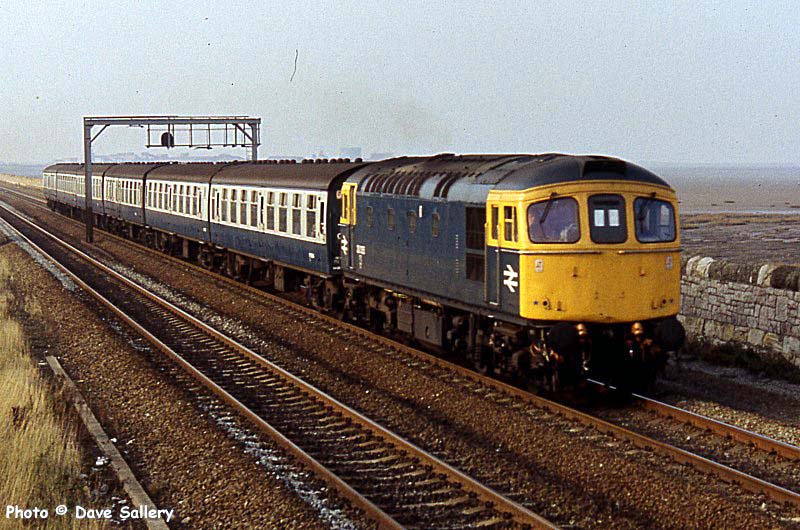 33055 passes Ffynnongroew on October 22nd 1985.
---
The last Class 33 working headed by Hastings gauge No. 33207 leaving Prestatyn on September 27th 1986.
---
33039 on Llandulas viaduct on a glorious 17th of August 1985.
---
On July 1st 1989 Network SouthEast ran an excursion from Wareham to Bangor formed of 33109 and two of the 4TC push pull sets as then used on the Waterloo - Weymouth service. Amazingly the return working was propelled from Bangor and it thus became the first diesel push pull train in North Wales. It was also the first push pull train since the steam hauled 'Welsh Dragon' which ended in 1965. The unique combination is seen passing Gronant near Prestatyn on the return working.
This is Richard Ellis-Hobbs shot of it near Mostyn.
---