Lliwedd - A Snowdonia copper mine

A website by Dave Sallery
Homepage: www.penmorfa.com
---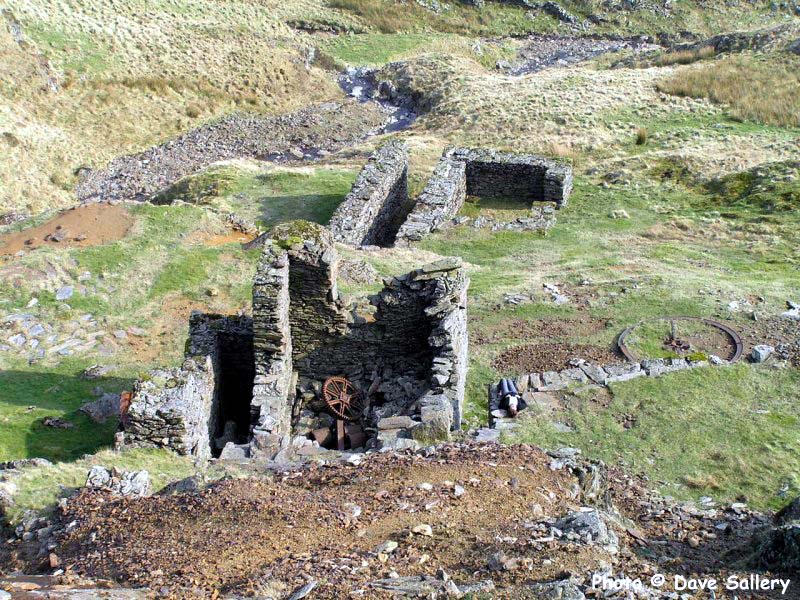 Looking down on the crusher house with the water wheel to its left. The unfinished second water wheel structure is beyond.
---
A brief history
This abandoned copper mine lies on a remote site on the slopes of Lliwedd 2946 feet/898 metres. Lliwedd is one of the mountains forming the Snowdon Horseshoe. At about 1000 feet/300 metres above Nant Gwynant, the mine cannot be clearly seen from the valley floor. It is a fascinating example of an early Victorian copper mine and has a wealth of industrial artifacts and relics.
Mining started at the site in 1806 and it went on to become the most productive in the area. The copper ore was not smelted on site but was generally sent to Swansea, by horse and cart to Porthmadog and then by ship. However over the years smaller quantities were also sent to Amlwch and Liverpool for refining. By 1867 the mine had closed as it was pretty well worked out. It is believed, however, that small scale reworking of the tips was carried on until about 1910. Since then the site has lain derelict.
---
Index to this site
If you can add further to the history of Lliwedd copper mine - please contact me
---
The slate slab bridge over the river.
---
Map and directions to the mine