Rhiwbach Slate Quarry and its tramway
Cwt y Bugail slate quarry
Photo Gallery Page 1
---
A steam age survivor
A wonderful survivor of the quarry's working life until some years ago was this single cylinder steam engine. This was originally an Aveling & Porter traction engine. It was used to haul waste rock up from one of the working areas and to power an underground incline. The rubbish or "bad rock" was then dumped to form the large tips so common in all quarries. It was probably the inaccessibility of this boiler which saved it from the scrap merchant.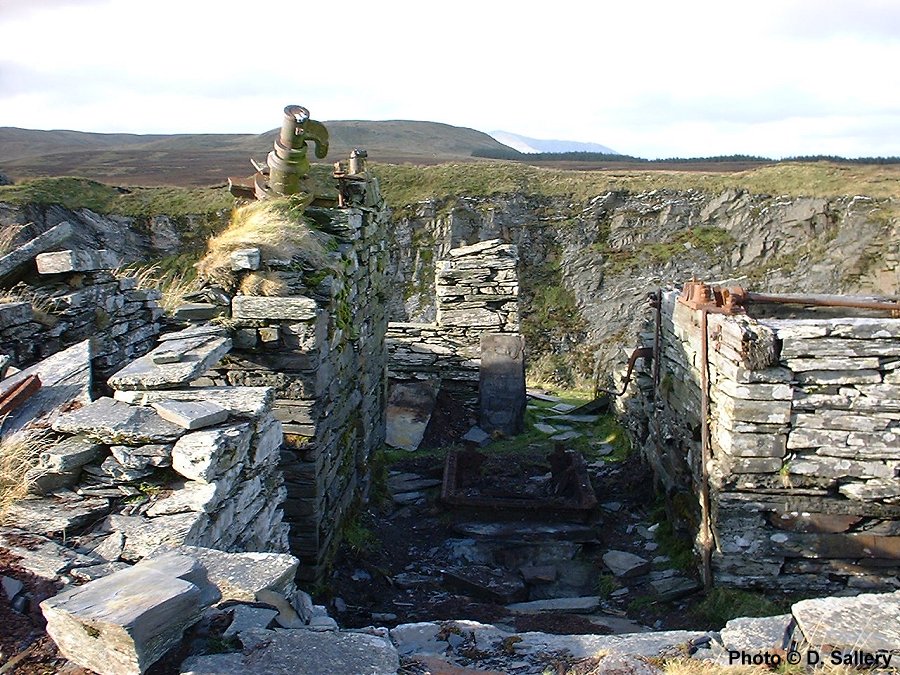 In the Summer of 2003 a group of traction engine enthusiasts removed the complete
stationary engine. Apparently this has been done to create a cosmetic restoration of an
1865 Aveling & Porter traction engine.
This is a view of the boiler during the salvage process. The removal
of such valuable links to the past is, in my opinion, inexcusable.
---
This axle would have been powered by the steam engine and was used to haul waste rock up an incline.

---
The Cwt y Bugail barracks
Two views of the remains of the Cwt y Bugail barracks block.
---
Due to the gradient out of the quarry, loaded wagons were hauled out by using a powered cable from the dressing shed. The cable ran around this wheel which is near the tramway junction.

---
A general view of the ruined dressing shed with the managers house to its right. The Rhiwbach Tramway can be seen on the low embankment in the left background.

---
To the Cwt y Bugail Photo Gallery Page 2