The Slate Industry of North and Mid Wales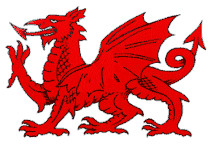 Cnicht slate workings
---
The Croesor valley viewed from Porthmadog. Cnicht is on the left and Moelwyn Mawr on the right with the valley in between. The Cnicht workings are on the right hand side of the mountain.
---
If there is a prize for the most improbable location for a Welsh slate quarry then it must surely go to the two small workings on the eastern side of Cnicht. Cnicht is one of the icons of Wales and is popularly known as the Welsh Matterhorn because of its shape when viewed from Porthmadog and the Glaslyn estuary. In reality the shapely peak is just the end point of a ridge. When viewed from elsewhere this is immediately apparent. Also at 689 meters/2260 feet it is a rather modest height by Snowdonia standards, never mind Swiss ones!
In the 1860's slate was discovered on the eastern side of the mountain in two locations. That the slate was 250 meters/ 800 feet above the valley floor up a very steep rocky slope was not seen to be a problem and extraction commenced. Each site was worked underground and access from the valley floor was by zigzag tracks. Alun John Richards records an output of 20 tons in the 1860's with eight men employed. In the photographs I have labelled the western working A and the eastern one B. The western working has the ruins of a shed with a stocking area below. The eastern one has a slideway from the adit entrance to another stocking area. The two areas are about 120 meters/400 feet apart with no visible access between them. The finished product could have been lowered to the valley floor using aerial ropeways but it is more likely that packhorses were used. This working probably operated for no more than a few years. The difficulties of location and transport would effectively rule out a long term future.
---
The southern side of Cnicht looking across from Moelwyn Mawr, click here, or on the photo for a larger image. Letter A is the western working and B is the eastern.
---
The western working (A) with the Croesor valley at the bottom of the view. Below is a close up view with the ruined building and stacking area shown.
---
Another view of the western working with some of the zigzag access track visible.
---
The eastern working (B). In the valley floor can be seen the route of the Croesor Tramway and Blaen y Cwm incline. The close up view below shows the slideway from the adit to the stacking area. Part of the zigzag access track can also be seen on the left.
---
A final view of the two workings.
---
Next page: The V2 table incline, Vivian Quarry