The Slate Industry of North and Mid Wales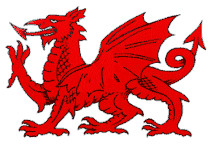 Photo gallery - page 2
---
Haulage incline, Diffwys Casson quarry


This early example of a single track incline drum was formerly used to work an incline bringing slate up from the underground workings. It was steam powered from an adjacent stationary boiler. The band brake lining is still intact but the brass bearings, not surprisingly, have been removed
---
A derelict quarry diesel locomotive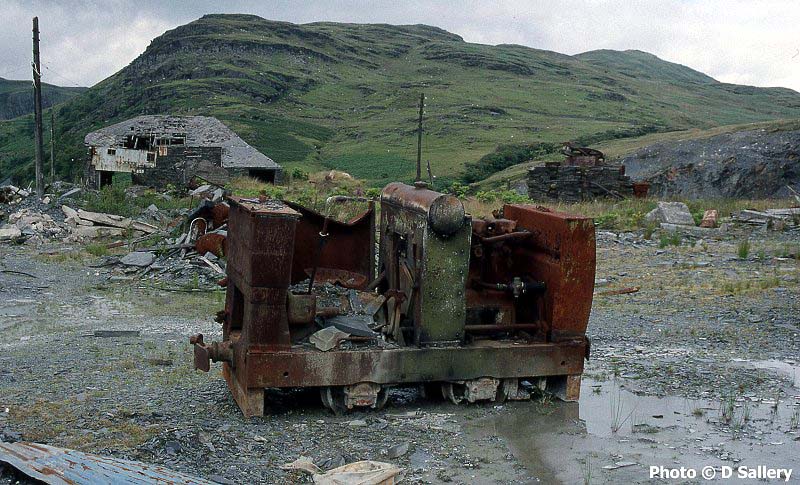 This derelict diesel loco was at Llechwedd quarry in Blaenau Ffestiniog some years ago. It did'nt always look like this!
---
Cwmorthin quarry barracks, Tan y Grisiau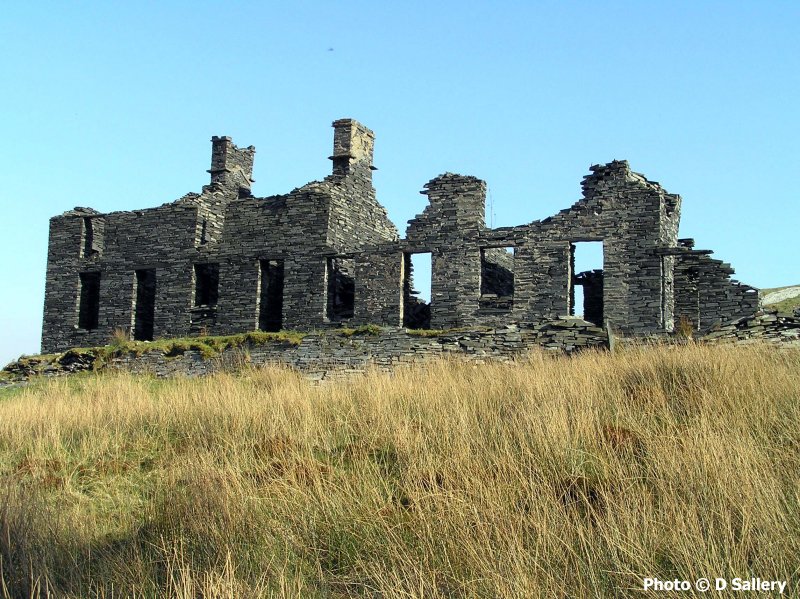 The barracks block at Cwmorthin quarry near Blaenau Ffestiniog. Cwmorthin had a very bad reputation in the industry for dangerous working practices, so much so that many of the local men refused to work there.
---
Dinorwic Quarry in the snow
The Garret or A series inclines in winter.
---
Llyn Cwm Corsiog, a reservoir for Rhosydd quarry.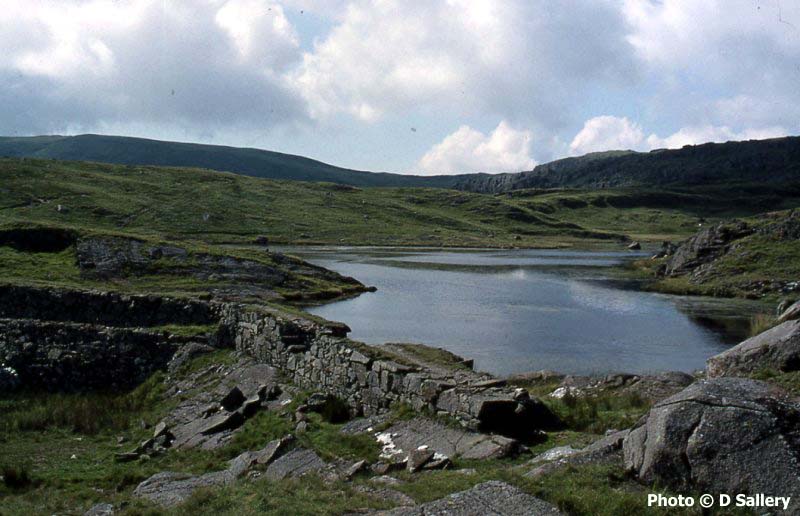 Many quarries relied on water power to operate slate dressing machines, pumps and inclines. In this very wet part of the world, water came free whereas coal and steam power was expensive. In many cases existing lakes were enlarged by the quarrying companies to cater for their new use. However, Llyn Cwm Corsiog is a purely artificial reservoir created in 1899 to supply water to Rhosydd Quarry. Part of the dam, which was constructed to create the lake, can be seen in the foreground. A fuller description of this quarry can be seen on my website - Rhosydd - A Ffestiniog quarry.
---
A dry stone masterpiece


This splendid arch is at Bryn Hafod Y Wern quarry near Bangor. No mortar has been used in its construction.
---
The Pant Mawr Quarry incline near Croesor




This is all that remains of the drumhouse which formerly powered the top incline leading to Pant Mawr quarry. The tramway passed to the right of the surviving left wall of the structure and then down into the valley. Moel Hebog and the Nantlle Ridge are seen in the background. This incline was abandoned at an early date as the quarry workings developed lower down the mountainside.
---
Derelict Oakeley quarry buildings


A reminder of times gone by is this collection of old quarrying buildings at Oakeley quarry, Blaenau Ffestiniog. Oakeley quarry is currently mothballed, hopefully it will reopen in the future.
---
Waliau
The buildings on the right are some of the surviving slate splitting buildings - waliau - at Prince of Wales quarry. They were open at the front with a sloping roof to the back. A quarry man would spend his working day cutting slates inside each one.
---
To Photo Gallery page 3