The Slate Industry of North and Mid Wales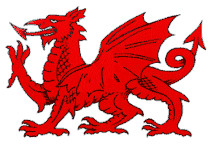 The slate quay at Tyddyn Isa near Maentwrog
---
Before the opening of the Ffestiniog Railway and the development of Porthmadog as a port, slate was exported from several quays on the Afon Dwyryd near Maentwrog. The slate reached here on horse drawn carts from the Blaenau Ffestiniog quarries. It was then loaded into small sailing boats and taken out to larger vessels anchored at the mouth of the Glaslyn. The full story of this interesting period may be read in the book "Sails on the Dwyryd" by M.J.T. Lewis, ISBN 0 9512373 3 0. To give some idea of the importance of this trade, it is estimated that over 420,000 tons of slates were exported from these quays over their lifetime. The Afon Dwyryd can no longer be reached by sailing vessels due to the construction of the Aberystwyth and Welsh Coast Railway bridge, near the mouth of the river, in 1867.
The best preserved of these quays is Tyddyn Isa which can be reached by a public footpath from the A487 between Maentwrog and Penrhyndeudraeth. The whole structure is 211m long, it was constructed in 1824 and last used in the 1860s. There are two well preserved buildings on the site, the larger one being an explosives store and the smaller, probably, an office. It is a fitting tribute to the builders of Tyddyn Isa that the quay could still be used again today.
---
Image reproduced with permission of Ordnance Survey.
---
The view looking across the river at the explosives store.
---
Office in foreground and explosives store at other end of the quay.
---
The upright slate slabs would have been used to hold the sailing boats fast during loading.
---
The stone used in construction was quarried from the rockface behind the quay.
---
The seaward end of the quay with Moelwyn in the background.
---
These steps allowed loading to continue at different states of the tide.
---
Looking across the Afon Dwyryd from Tyddyn Isa to Cei Newydd, built in 1836.
---
Next page: Prince of Wales Quarry, Cwm Pennant