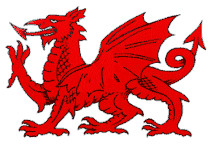 Steam locomotives of the slate railways today
---
On this page are examples of locomotives built either for slate quarries or for the railways which served them. All of these locos have been preserved and in most cases they are still hauling trains. This is not intended to be a comprehensive survey as there are far better websites out there for those who wish to study the subject further.
---
Built in 1902 by Hunslet of Leeds, Alice worked at Dinorwic Slate Quarry until about 1960. She now works passenger trains on the Bala Lake Railway.
---
Maid Marian is an 0-4-0 saddle tank locomotive built in 1903 for Dinorwic. She can also be found working on the Bala Lake Railway.
---
Holy War of the Bala Lake Railway. This loco was supplied new to Dinorwic Slate Quarry in 1902. She was the last steam locomotive to work in a British slate quarry being withdrawn from traffic in November 1967.

---
The Talyllyn Railway was built to transport slate from Bryn Eglwys Quarry to Tywyn in Gwynedd. 'Talyllyn' is one of the original locomotives of the railway. Built in 1864 by Fletcher, Jennings & Co. of Whitehaven she is still in service today.

---
Sir Haydn of the Talyllyn Railway. Built in 1878 by Hughes' Loco & Tramway Engineering Works Ltd of Loughborough this loco worked on the nearby Corris Railway until its closure in 1948.
---
David Lloyd George of the Ffestiniog Railway, one of the famous Fairlie locomotives. This locomotive entered traffic in 1992 but is an exact copy of an 1880's machine.
---
Prince is the oldest working engine on the Ffestiniog and was built for the FR in 1863.
---
Blanche was built by the Hunslet Engine Company in Leeds for the Penrhyn Quarry Railway in 1893. Blanche and sister locomotive Linda have worked on the Ffestiniog Railway since 1963. The third loco of the Penrhyn main line trio is Charles, now at Penrhyn Castle Museum.
---
Elidir works on the Llanberis Lake Railway in the shadow of Dinorwic Quarry. She was built by Hunslet of Leeds in 1899 and delivered new to the quarry in that year.
---
Lilla was built for Cilgwyn Quarry in Dyffryn Nantlle in 1891. In May 1928 she was bought by Penrhyn Quarry where she worked until preservation. Lilla can now be found on the Ffestiniog Railway.
---
Next page: Inclines, ropeways and Blondins