The Slate Industry of North and Mid Wales

More tramway photos from the past - page 2
---
The tramway at Cwmorthin Quarry, Blaenau Ffestiniog before it was lifted.
---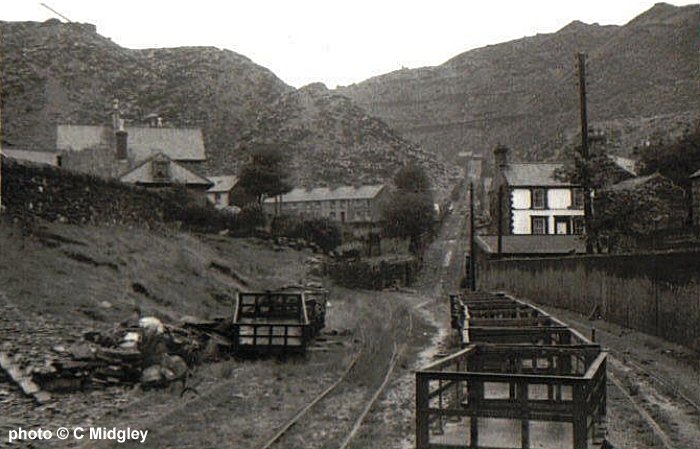 The Ffestiniog Railway yard at Duffws station in Blaenau Ffestiniog. The incline lead to Fotty & Bowydd quarry and was in use until 1962. The area in the foreground is now a car park but the incline formation remains.
---
The Rhiwbach No. 1 incline at Duffws station, this incline had been closed for many years by 1962. The incline formation is nowadays generally intact but the overbridge has gone.
---
This is the Glan-y-Don bridge at Blaenau Ffestiniog. The bridge connected Oakeley Quarry on the right with a large waste tip and also formed the connection to the transshipment sidings at Blaenau Ffestiniog North BR station. At the bottom left is the line leading to Llechwedd's standard gauge loading platform. The tip on the left has now been removed but the centre pillar and right hand abutment remain. A more recent view can be seen here.
---
This is "Kidbrooke", a steam loco which formerly worked at Oakeley Quarry. It is seen at the Ffestiniog Railway works at Boston Lodge. Today the loco has been restored and now works on the Yaxham Light Railway.
---
Alan Barnes photographed Dinorwic No.1 on the quay at Port Dinorwic on July 19th 1961. This loco is now preserved on the Bredgar and Wormshill Railway in Kent.
---
Michael Bishop photographed this slab wagon outside the cutting sheds at Aberllefenni on July 13th 1965.
---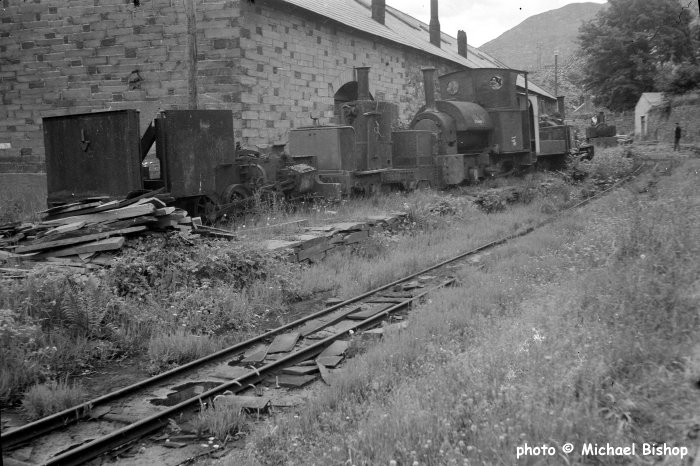 Michael Bishop photographed the Penrhyn scrap line in July 1964. The locos appear to be Bronllwyd, a De Winton, Stanhope, the brake wagon (ex Sandford), a Hunslet and Sergeant Murphy some distance away.
---
The gates to Port Penrhyn, firmly closed on 16 July 1965.
---
Next section: Narrow gauge and quarry rolling stock