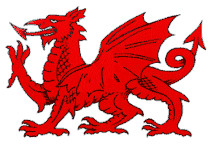 The industry today
---
News from the industry

Slate quarry jobs at Blaenau Ffestiniog in the balance, BBC News 26 April 2014
Workers at a Gwynedd slate quarry closed amid safety fears are waiting to see if they will keep their jobs. Nineteen quarrymen at Llechwedd in Blaenau Ffestiniog have been off work without pay since Easter after the rock face became too unstable. Experts are examining a nearby slate vein which could offer a new lease of life after 170 years of operation.

Geological surveys carried out for Llechwedd's owners have shown that there is plenty of slate a few hundred metres up the mountainside at Maenofferen, part of the seam that was first mined in the early 1800s. J W Greaves, the company which owns the quarry, will find out over the next two months whether the slate in the Maenofferen seam is of good enough quality to quarry. Llechwedd, which employs 23 people, is one of two quarries in Blaenau Ffestiniog alongside Cwt y Bugail, with a third quarry at Penrhyn, Bethesda, which still employs about 200 people.

---
The Dutch registered Noest is seen arriving at Port Penrhyn on April 12th 2013. The ship was due to load 2200 tonnes of decorative slate chippings destined for Enchede in the Netherlands, via Rotterdam. It is hoped that there will be more cargoes like this.

---
Penrhyn bouncing back after half million tonne landslide, Daily Post 23-07-12
The landslide of half a million tonnes of stone into a working pit closed off large areas of the main rock faces at Penrhyn Quarry in Bethesda, where around 200 quarrymen worked. It slashed roofing slate production, which saw workers placed on a short week and an appeal made for volunteers for redundancy. Now owner Welsh Slate is fighting back after stepping up production at its Cwt-y-Bugail Quarry in Blaenau Ffestiniog as work goes on to open other seams at Penrhyn. A total of 24 staff have been reassigned to the Blaenau site, saving workers from redundancy, and seen the company coping with demand for its slate, known as the finest in the world. The Unite union said there had been no compulsory lay offs, voluntary redundancies have been restricted to a 'handful' and workers were gradually returning to a five day week. Quarry bosses are also pressing ahead with plans to re-align the Bethesda quarry to exploit major new seams and extend the life of the site by more than 15 years. Chris Allwood, managing director at Welsh Slate, said: "Two months on from the rock fall at Penrhyn Quarry, we have experienced a difficult trading period during which those affected – our roofing production personnel – have elected to reduce their working week to four days in order to help the company as it attempts to avoid any compulsory redundancies.
"This setup has been in place since the end of May and, as agreed, the company has reviewed these arrangements with Unite last week. "We remain cautiously optimistic with regard to the work being undertaken to bring the business back on track, and will be meeting again with Unite at the end of the month. "It is hoped that a return to five-day working may be resumed earlier than originally anticipated, but the company is not yet in a position to confirm this. "We are mindful of the situation of those employees affected by four-day working and aim to return to normal working as soon as possible. "The flexible approach adopted by our employees is much appreciated by the company." Paddy McNaught, regional organiser for Unite, said: "The hard work of the workforce and cooperation of the company is seeing them bounce back from the landslide. "Workers accepted the four day week although it has meant that finances were tight for many of them. "We are pleased that more and more workers are now returning to full time working and the company is meeting demand."
Slate from Cwt-y-Bugail is currently being used on several prestigious projects in North Wales and across the UK. Mark Hodgkinson, production director at Welsh Slate, said: "We are increasing production at Cwt-y-Bugail in order to satisfy growing demand and ensure that our current customer base continues to be well served." Welsh slate is considered by industry experts to be the "Rolls Royce" of roofing materials. It is the toughest natural slate product known to man and has the longest lifecycle of any slate.
---
Penrhyn Quarry locomotives coming home, April 2012
Julian Birley and Graham Morris have organised the return of three former Penrhyn Quarry steam locomotives from the United States. The three locos were exported to the USA in July 1965 and have been in a museum in Terre Haute, Indiana since 1991. The locos are shown here being prepared for loading into containers and they should arrive back in the U.K. shortly.
'Glyder'
'Ogwen' is eased into a shipping container
'Winifred'
'The rescue team' in Indiana.
---
Welsh Slate to unveil plans to extend Penrhyn Quarry, Daily Post 21 March 2012
WELSH Slate is set to unveil plans to extend Penrhyn Quarry, safeguarding jobs for the next 25 years. The company has organised public consultations to discuss the proposals for the Bethesda site as part of a pre-planning application process. The company is remaining tight-lipped on the details of its plans, but it is understood that the planning application it intends to submit could safeguard the future of around 170 jobs at the quarry and is seen as part of its business plan for the next 25 years. Today Welsh Slate directors are set to meet trade union representatives to discuss how the application process will affect their members.
Welsh Slate managing director Chris Allwood said: "Welsh Slate takes its responsibilities to the local community and environment extremely seriously. As a good neighbour it is of the utmost importance that we take the views of residents and community leaders into account, and address any concerns that may arise with regard to proposals for the future development of our operations. Following consideration of the consultation process with local residents, community groups and stakeholder organisations, the company would aim to submit the necessary application at the earliest opportunity."
Mynydd Llandygai county councillor Gwen Griffiths welcomed the exhibitions, because it meant people living in the area would know exactly what is going on at the quarry. Cllr Griffiths said: "I welcome the public exhibition which has come out of a request made by the quarry steering committee that any plans for the future are made public as soon as possible. "In the past planning applications have just been submitted with people around here remaining in the dark about it. We know that a planning application to extend the quarry towards Mynydd Llandygai is imminent and has been in the pipeline for the last couple of years. This is part of the company's future vision for the quarry over the next 25 years and I know that there will be some opposition to the plans. This will give villagers the opportunity of scrutinising the current proposals having their say before the actual application is submitted. I am always willing to listen to the arguments for both sides."
Paddy McNaught of trade union Unite said: "We will be meeting with Welsh Slate to discuss their proposals and how it affects our members."
On Monday April 2 and Wednesday April 11, the company has organised public exhibitions at Mynydd Llandygai Memorial Hall and Bethesda Rugby Club.
---
Restoration of a Dinorwic quarry wagon
In October 2010 the above wagon was rescued from dereliction in the quarry by Julian Birley. The photo below shows the fully restored wagon in December 2010. It is intended to use the wagon and others like it in a replica Dinorwic quarry train on the Bala Lake Railway.
---
Slate industry heritage to be safeguarded in Gwynedd, Nov 22 2010 by Eryl Crump, Daily Post
The slate quarrying industry of north west Wales is worth nearly £600m to the local economy each year. A study carried out for Gwynedd Council found the quarries in the Blaenau Ffestiniog, Llanberis, Bethesda and Nantlle Valley area generate over half the amount of slate in the UK and support at least 1,080 jobs pumping £31m into the local economy. A further 63 organisations and business are associated with the industry. Many of these are tourist attractions and last year there were 1.2 million visits to these sites generating £550m for the economy of Gwynedd.
The study's findings are outlined in a report to Gwynedd Council's development scrutiny committee to be discussed at its meeting in Caernarfon later this week. Sioned Williams, head of Economy and Community, said the study was carried out as part of a project making the most of the heritage of the slate valleys. She said: "A rich legacy in relation to heritage, landscape, culture and history are among the characteristics and assets of the slate valley communities. "The council and its partners have identified the wonderful potential of these resources in contributing towards ensuring a prosperous future for the communities and residents of the slate valleys. "There are a number of initiatives to ensure due acknowledgement of their unique nature and to ensure more benefit is gained from them." She said CADW will fund promotional schemes for Welsh heritage. "One of these schemes is Wales, the first industrial nation, and about £1.9m will be available for this theme, which will target relevant areas, including Gwynedd. "It is anticipated that an invitation to submit bids for the funding will be announced early in 2011," added Ms Williams. Earlier this year Gwynedd Council agreed to investigate the possibility of securing Unesco World Heritage Status for the industry in the region. A decision on whether a bid will be included on a list of possible sites will be made next year.
---
Slate quarry electric locos to be restored, 21 July 2010.
Coalition and Eclipse being loaded at Llechwedd.
Two of the most historic railway engines in Wales are to be moved to a museum in Porthmadog as the first stage in their restoration. Eclipse and Coalition are two of the oldest electric locomotives in Britain, and are based at Llechwedd Slate Mines in Blaenau Ffestiniog. They were converted to run on electricity in 1927 and 1930 at a time when most of Britain's railways used steam locomotives. The locomotives worked at Llechwedd until the 1960s. When they were withdrawn from service, they were preserved on static display. But more recently, time and the weather have taken their toll. A new agreement means that the pair will now be transported to the Welsh Highland Heritage Railway in Porthmadog where they will be kept under cover until the means can be found to restore them.
Built by W.G. Bagnall of Stafford, works No. 1278 in 1890, formerly named "Edith". Converted to "Coalition" in 1930.
Built by W.G. Bagnall of Stafford, works No. 1568 in 1899, formerly named "Dorothy." Converted to "Eclipse" in 1927.
---
Gwynedd slate industry hopes for World Heritage status
From the BBC Wales website, June 11th 2010:
The slate industry of north Wales is hoping to be granted highly-prized World Heritage status. A bid has been submitted to the Department for Culture, Media and Sport in the first step of a process that could take years. Supporters believe the industry has shaped the social, political, economic and cultural landscape of Wales. World Heritage Sites are chosen for their outstanding universal value to culture, history or science.
Dr Dafydd Roberts, keeper of the National Slate Museum, in Llanberis, said the heritage of the slate industry could be seen in the quarries, the towns, the buildings, the language and the culture of people in Gwynedd. He said: "The slate industy has shaped communities - they had and still do have their own very special and unique culture. These areas were and still are bastions of the Welsh language and culture and so towns like Bethesda, Blaenau Ffestiniog and Llanberis have developed a unique character that is still there, I would argue."
Wales currently has three World Heritage Sites: the castles and town walls of King Edward, in Gwynedd, the Blaenavon industrial landscape, in Blaenau Gwent, and the Pontcysyllte Aqueduct and Canal, in Wrexham. The entire process can take between five and 10 years. If the bid is approved by the DCMS it will be entered onto what is called a "tentative list". From there the bid must move onto a nomination list where it will be assessed by the International Council on Monuments and Sites (ICOMOS) and the World Conservation Union (IUCN). If successful, the application is then judged by the World Heritage Committee, which meets once a year to decide which sites will be inscribed on the World Heritage List.
---
Oakeley Quarry closure, April 2010.
"Hogia Oakeley", the boys of Oakeley seen just before closure of the quarry on April 16th 2010. Photo by courtesy of stiniog.com
The Daily Post - March 18th 2010: What was once the world's largest slate mine is to shut – because it's in danger of collapsing. Cracks were spotted in the surface of the historic Oakeley Quarry in Blaenau Ffestiniog, and bosses at Welsh Slate decided to shut it immediately to protect workers' safety. It means up to 30 of the site's 55 staff will lose their jobs in six weeks' time, and another 25 to 30 will be offered jobs at Penrhyn Quarry, Bethesda, which is owned by the same company.

Expert geologists were called in after "significant" cracks emerged on the surface of the site two weeks ago, and found they were caused by subsidence in mine chambers. Bosses say they had no option but to "mothball" the 179-year-old quarry, also known as Gloddfa Ganol and Ffestiniog. Shocked workers were yesterday told the exact number of job losses hasn't been decided yet, and unions will be consulted. The announcement came within hours of confirmation that a bid to upgrade the Conwy Valley railway line between Blaenau Ffestiniog and Llandudno Junction to carry aggregates and slate waste had been unsuccessful.

Unite union official Paddy McNaught said: "We will be looking at the company to protect some of the jobs by moving them to Bethesda or re-locating to Cwt-y-Bugail quarry, Blaenau. "It will be an end of an era at that particular quarry (Oakeley). It's very disappointing and devastating for a community that already has been
devastated by job losses and job cuts."

Welsh Slate managing director Alan Smith said it had simply become too dangerous to keep mining the slate. He told the Daily Post: "The Oakeley is underneath older workings where in 1880 there was a significant fall when some of the waste slate fell onto the chamber below. Two weeks ago we spotted cracking on the bench. He added the closure was "purely a safety decision", and nothing to do with a massive fraud carried out by three former Welsh Slate bosses who inflated sales figures with more than £10m of false orders. The fraud delivered a £40m blow to then-parent company Alfred McAlpine's profits, saw its share value plummet and led to the loss of 136 jobs at its three North Wales quarries in Bethesda, Blaenau Ffestiniog, and the Nantlle Valley.

The Health and Safety Executive said the decision to close Oakeley was taken by Welsh Slate and not by them, although they had been informed. HSE spokeswoman Nadia Nuaimi said: "The decision to close wasn't because we'd taken an enforcement action." Mr Smith added: "Following investigations with independent safety experts it was concluded there was an unacceptable level of risk to site personnel. "We have therefore decided to mothball activities in the quarry, and roofing production will cease at the end of April.

No other operations or staff levels at Welsh Slate are affected. Current orders will be unaffected and customers will have the option of buying slate products from the company's other quarries, Cwt-y-Bugail, Pen yr Orsedd, Dyffryn Nantlle and Penrhyn. Mr Smith said options for re-opening the Oakeley Quarry would be reviewed in the near future but he didn't want to build up any hopes.

He added: "We deeply regret the mothballing of Ffestiniog (Oakeley) Quarry. However, the issues involved are beyond the control of the employees or the company. We would like to take this opportunity to thank the employees at Ffestiniog for their hard work in the past three years." A Gwynedd Council spokesperson said: "The council has and will continue to discuss with the company how we can support those workers effected."
---
BBC News, 13th August 2009: Staff at a North Wales slate works are being warned compulsory redundancies are likely because new machinery will mean fewer workers are needed. Welsh Slate, which has its main operation at the former Penrhyn quarry in Bethesda, has started briefing staff about the changes. The managing director said it was not clear when jobs would go, or how many redundancies would be involved. The company employs around 240 people in Gwynedd. The firm is bringing in new machinery and plant, which means fewer workers will be needed at the quarry.
In April, Welsh Slate announced it was asking staff to accept a 10% pay cut because of the slowdown in the construction industry. In August last year, the company announced it was cutting 50 jobs because of the global economic downturn. The quarries were bought from previous owners Alfred McAlpine for £31m two years ago following the discovery of a large-scale fraud within the business which McAlpine said would leave it with a bill of more than £40m in lost profits and investigation costs. It was taken over by Rigcycle, a company run by the Northern Ireland construction company Lagan.
Welsh Slate operates four quarries in Bethesda, Nantlle and Blaenau Ffestiniog for roofing slate, aggregates and architectural products. The company reported a turnover of £27m in 2008. The owners believe Penrhyn quarry has enough reserves for more than 25 years, and have said that in combination with the reserves at Welsh Slate's other three quarries, it will underpin the company's production for many years to come.
---
In December 2007 the Irish construction group Rigcycle Ltd bought out the Welsh slate interests of Alfred McAlpine for £31 million. This takeover followed a financial scandal at McAlpines slate business which led to many redundancies and the closure of Cwt Y Bugail (Manod) quarry near Blaenau Ffestiniog. Rigcycle's slate interests have been renamed Welsh Slate and they currently operate four quarries - Bethesda, Gloddfa Ganol (Oakeley), Pen yr Orsedd and the reopened Cwt y Bugail - whose future now seems secure. Currently 1 million tonnes per annum are produced by Welsh Slate. The company plans to reduce its sawn slate operations but increase traditional split roofing slate and architectural and landscaping products. Currently the workforce stands at 295 but it is planned to reduce this to 273 through natural wastage. It is to be hoped that a secure future is now guaranteed following a long period of uncertainty.
Elsewhere in the industry only two other quarries are being worked to any extent. Llechwedd in Blaenau Ffestiniog rely to a great extent on their tourist business but continue to untop abandoned underground chambers to recover the 20 metre wide pillars of slate which were left to hold up the roofs. The small Berwyn Slate Company near Llangollen are proof that with adequate investment and a niche market it is still possible to succeed in the industry. Wincilate at Aberllefenni near Corris continue to operate successfully as a slate finishing business with their raw material being imported from elsewhere.
Several small operations have also begun to rework various waste tips for hardcore and slate chippings - now much in demand as a decorative feature. Welsh slate is still used for roofing purposes, both new and replacement while pulverised slate has many uses. Other markets are cladding and flooring for prestige buildings and luxury items like kitchen worktops. Small but relatively expensive items for the tourist industry are also widely produced.
Those quarries which still produce slate today use techniques and machinery very different to those one associates with the industry. Modern quarrying can be a brutal process using large machines and often large amounts of explosives. It is not a pretty sight but such techniques are necessary to ensure the industry's survival in a worldwide market place.
In April 2002 a new tax was introduced on Primary Aggregates (this is rock which is newly quarried). The tax does not apply to Secondary Aggregates (rock which has already been quarried and then rejected as waste). The process of slate quarrying generates vast amounts of waste rock. There are estimated to be 730 million tonnes of slate waste in North Wales of which 370 million tonnes are in the Bethesda and Blaenau Ffestiniog districts. Current extraction is increasing this amount by 6 million tonnes a year. Slate waste could, theoretically, supply some 50% of UK crushed rock sales. This amounts to a market size of some 59 million tonnes/annum. It is widely used in North Wales for general fill and road building and these applications represent the major future use of slate waste. Penrhyn quarry has recently started to send slate waste by sea from Port Penrhyn to Liverpool and Manchester and it is anticipated that up to 200,000 tons per year could be sent to each destination. It is also planned to establish a rail terminal at Blaenau Ffestiniog from where slate waste from Oakeley quarry will be sent to English markets.
Sometimes, as the old waste heaps are unstable, they are landscaped or in some cases removed altogether. In the case of the Nantlle Valley where the slate was extracted from the floor of the valley beneath the water table, as soon as pumping ceased then the pit rapidly filled with water. The best example of this is Dorothea Quarry where a pool up to 200 metres deep has formed. Now a popular, although unofficial, diving centre its cold waters have claimed several lives. In many cases the derelict quarries are too remote to reach nowadays and often remain in the state they were in at closure. The waste heaps being visible for miles and a reminder to all of times gone by.
---
Slate cladding on a modern building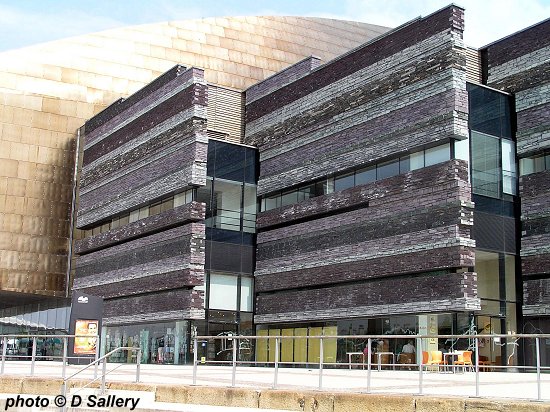 The Millennium Centre in Cardiff has made extensive use of the contrasting colours of slate for cladding the building.
---
Modern machinery
This line up of modern dumper trucks is at what was McAlpines Cwt y Bugail quarry. The vehicle on the left is a water sprayer used to keep down dust levels.
---
A modern saw
A huge diamond tipped saw in use at Berwyn Slate near Llangollen.
---
The slate dust plant at Penrhyn Quarry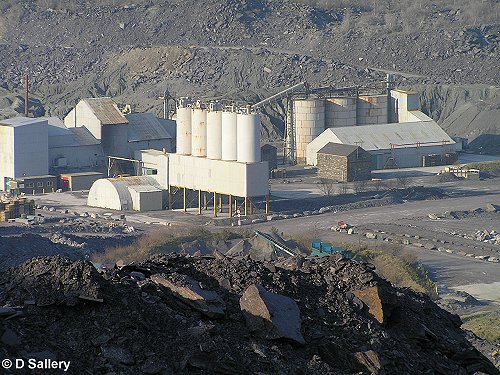 ---
Reworking at Blaenau Ffestiniog
Examples of the reworking of some of the old Fotty & Bowydd and Maenofferen Quarry workings. The underground workings were held up by pillars of slate up to 20 metres in width. Modern methods involve collapsing the area above the underground pillars and their extraction using modern earth moving machinery. The untopping process is a brutal reworking which removes all traces of the underground adits, chambers and access tramways of the old workings.
The diagonal line is an old gravity incline. The newly exposed rock shows where untopping is taking place.
---
Three levels of old underground workings and their supporting pillars are exposed to the light of day for the first time. It was always a temptation to make these supporting pillars as thin as possible - a process fraught with danger. In the case of the "Great Fall" in Blaenau Ffestiniog in 1882 up to 6 million tons of rock fell underground at the Welsh Slate Company causing considerable damage to that working and to adjacent ones. Often after a quarry had closed unofficial extraction of these pillars took place, a process known as pillar robbing. This could result in roof falls and subsidence of the area above and around the quarry.
---
In the view above a tip is being reworked to produce slate chippings of various sizes. Compare the height of the tip with the modern yellow excavator at the bottom right!
---
Slate dressing at Wincilate Ltd. Aberllefenni, near Corris