Rhyl & District Model Railway Club
Abergele
Modellers: David Bell, Steve Cooper, Glyn Hughes, Gordon Thompson,
Trevor Williams, Dave Sallery, Mark Armstrong, Mike Williams.

---
Abergele in steam days. 2-6-4 tank 42252 enters with an up train.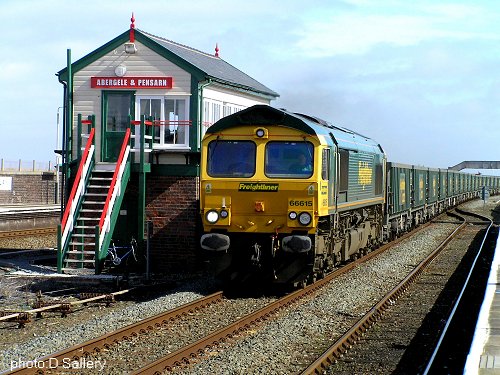 Abergele in 2006, 66615 passes with a freight train to Penmaenmawr.
Our Abergele layout was built in the late 1980's and still acts as the clubs main layout for members to give their stock a run out. The layout is built to British 4mm, OO, scale and is based, as accurately as possible, on the station of the same name. Abergele is situated on the North Wales coast mainline only a few miles from the club premises. In railway terms it is between Rhyl and Colwyn Bay and still open today although unstaffed. It is now something of a rarity on the national network in that it is still signalled using old style semaphore signals mostly lit by oil lamps.
Our layout depicts the station as it was in its heyday of the late 1950's/early 1960's. This was the time when Summer Saturdays on the line meant vast numbers of holiday excursions and any loco that could pull a train being pressed into service. Station buildings, signalbox, goods yard and semaphore signalling are all faithfully replicated after extensive research and groundwork by our members. We even have a rake of holiday Camping Coaches in the siding closest to the sea - a memory of summer holidays past.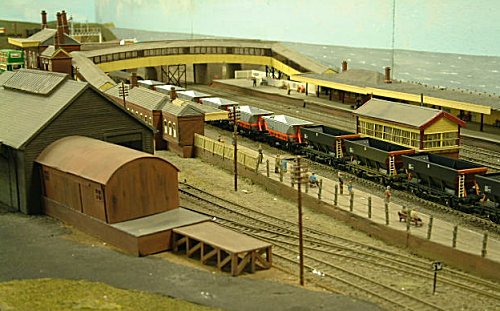 The track is Code 100 Peco streamline allowing a wide variety of members stock to be run. This does allow some latitude and some very distinguished and exotic locomotives have passed through over the years! The four track main line through the station and bi-directional fiddle yards allow plenty of scope for prototypical (and non prototypical operating).

---
Kansas Grain