Rhyl & District Model Railway Club
Long Haul Logging Company
Modellers: Arthur Airey, Phil Griffiths
The Long Haul Logging Co. layout is so named because its been an awfully long time getting to where it is today! The layout started, back in the depths of time, as an "O" gauge street tramway layout, taking its power from overhead wiring. It was constructed on 2 baseboards of 8' x 4'.
The layout underwent a metamorphosis to an American HO layout of no particular period. However the acquisition of two logging locomotives encouraged a rethink and the layout has now evolved into the Long Haul layout you see today. The electrical side of things required sorting out as our previous approach to wiring had been somewhat simplistic.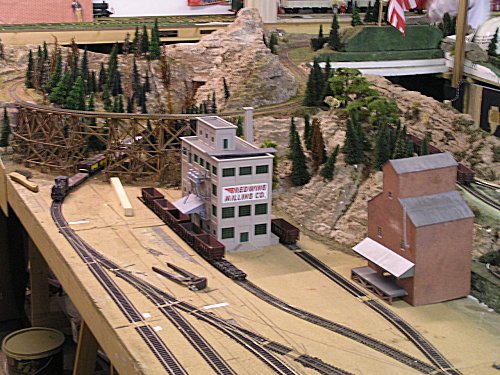 Enter the club's resident electrical wizard "Al" who took the whole thing into hand and it now works as a layout should. Its size has grown to 16' x 8' but, to our everlasting regret, only heavy lifting gear would make it portable!

---
Neustadt