Rhyl & District Model Railway Club
Oakland 3rd Street yard
Modeller: Martin Wild
This layout is modelled in the uncommon 1/29th scale (10.5mm:1 foot) American gauge 1. It is set in Oakland, California in the 1960's and the Southern Pacific, Santa Fe and Union Pacific all have running rights into the yard. Locos and stock from other western seaboard lines can also be seen.
Despite the large scale, the layout dimensions are a compact 16' x 2' 6". The viewing height is slightly higher than the average at around 3' 9" and an enclosed "box" presentation is used. Operation is designed to be from the front to allow interaction with spectators. Operation from the rear is being considered for a later date. The emphasis is on switching cars between the various industries.
The baseboards have a 3" x 1" framework topped with 3/4" plywood, which has proved strong enough to support the heavy locomotives used in this scale. Trackwork is Peco gauge 1 and all the points were constructed from the same company's "individulay" range of components. The points are motorised using Fulgurex slow action point motors. The track is ballasted using blasting grit which is somewhat lighter than conventional ballast. This is then weathered with track colour aerosol paint.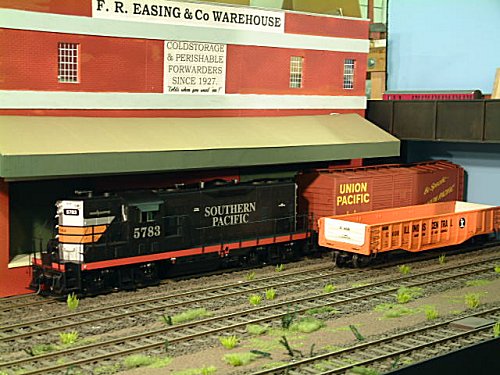 The small amounts of greenery need to look like weeds in this scale, so products from "International Models" were used in addition to conventional scatter. Small details are from a variety of sources; figures are butchered from the Scalextric range and items from 1/24th and 1/32nd military ranges are used where appropriate. Road vehicles are generally cheap toys costing £2 to £3 each - the breakdown truck being a particular favourite! Small cameo scenes are used to help bring the layout to life.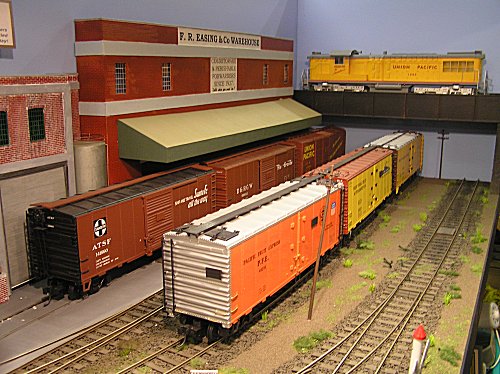 The buildings have been scratchbuilt from plastic sheet, wood and card. The grain silos are made from PVC guttering. Everything higher than a couple of inches has to be removed from the layout for transportation, so the buildings need to be particularly robust as most are modelled in low relief.
Rolling stock is mainly ready-to-run by Aristocraft and USA Trains, though a few items have been scratchbuilt. One of the attractions of this scale is that locos and rolling stock are not particularly expensive and you don't need much of it! To put this in perspective, a brand new loco similar to those used on the layout costs about the same as 3 or 4 new "OO" steam models. Kadee couplings have been added to allow automatic coupling and uncoupling.
---
Pulpfiction