The Railways of North Wales -
Changing trains
: page
30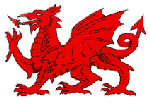 ---
Mail by rail
The carriage of mail to Ireland was one of the main reasons for the building of the Chester - Holyhead railway in the 1840's. That era came to an end on 23 May 1994 when the last Travelling Post Office ran on the line. In later days all Irish mail went by air and only local North Wales post was sorted on the down journey. The Up train picked up at Bangor and Chester only. The carriage of parcels and newspapers, very important in the past, had also finished some years earlier. The photos below show the empty vans en route to Holyhead. The full train ran on Monday evening and the single van working on Tuesday to Friday.
---
47763 at Shotton low level, 2nd May 1994
---
47558 "Mayflower" passes Holywell Junction, 14th July 1992.
---
47528 "The Queen's Own Mercian Yeomanry" with the "Duke of Lancaster" in the background, 26th May 1992
---
47521 passes milepost 200 just west of Mostyn, 11th June 1992.
---
47439 at Talacre, 15th July 1991
---
47626 "Atlas" near Prestatyn, 13th April 1992
---
The location is Abergele and the loco is 47625 "Resplendent". 25th April 1994.
---
47584 "County of Suffolk" awaiting departure from Holyhead, July 30th 1992
---
Next page: Nuclear flask trains