The Railways of North Wales -
Changing trains
: page 2
9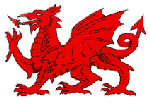 ---
47050 passes Mostyn on 30th May 1989. On the right are steel coil carriers from Ravenscraig. These had arrived due to a strike in Scottish ports and the steel was to be exported through Mostyn.
---
47195 "Muricidae" backs coil carriers into Mostyn sidings on 31st May 1989
---
Unloading a coil wagon in the docks, 31st May 1989
---
56063 shunting steel wagons at Mostyn, 3rd March 2001.
---
56063 on its return working of empty bogie bolsters and acid tanks, 3rd March 2001
---
During the remodelling of Manchester Piccadilly a virtual quarry was set up at Ardwick and served by a daily working of ballast from Penmaenmawr. 47228 nears Prestatyn on the empty wagons, 1st March 1988
---
47322 at Prestatyn, 13th April 1987
---
47446 on the down fast line at Rhyl, 19th July 1988
---
47588 "Carlisle Currock" passing a newly remodelled Rhyl, 19th April 1990.
---
31231 nears Rhyl on a train of steel girders for construction of the A55, 18th September 1987.
---