The Slate Industry of North and Mid Wales

Dinorwic Quarry in June 1967 - In search of steam, page 1
---
In June 1967 Michael Bishop ventured to Dinorwic Quarry in Llanberis to seek out Holy War, which was then the last working steam locomotive in a Welsh slate quarry. Holy War was built by the Hunslet Engine Co. in Leeds in 1902 and was of a class of locomotive synonymous with the Welsh slate industry. A formal request to visit the quarry was refused so the only way in was the unofficial way! This meant climbing the C series inclines on the south part of the quarry to the top then crossing over to descend the A series inclines on the north side, eventually to drop down to the 6th level where Holy War could be found.
---
Looking down the A3 incline with the Anglesey Barracks on the right.
---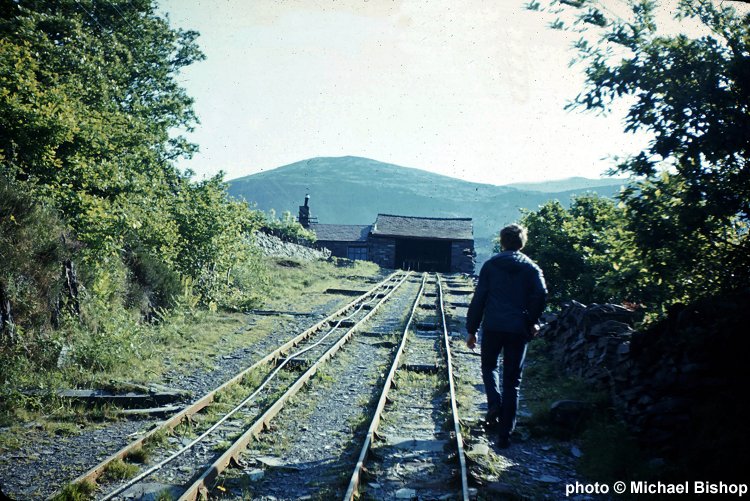 On the A4 incline which leads to the Village Level with Michael's co-conspirator leading the way.
---
Looking down the A4 incline with a glimpse of Llyn Peris on the left far below.
---
looking down on Level C3T during the strenuous walk to the top.
---
High up on the fifth level of the quarry, almost 1,600 feet, 487 metres, above sea level were the remains of Alice in a semi derelict locomotive shed. Alice was built by the Hunslet Engine Co. in 1902 and had been withdrawn in 1960. The loco was subsequently used as a supply of spare parts. Alice was lowered to the bottom of the quarry in 1972 and the locos subsequent history may be read here.
---
Holy War waits patiently at the sidings beside the incline. In its true element with grey slate on every side.
---
Two close up views of Holy War. The locomotive spent most of its working life on the higher levels of the quarry. For a time it was housed in the highest engine shed in Britain. This was on Lernion level at 1860 feet, 566 metres above sea level.
---
The pipe across the photo is for compressed air. There were miles of piping in Dinorwic and their primary purpose was to supply power to the rock drills.
---
Next page: Dinorwic Quarry in 1967, Page 2
Return to: Working tramways index