The Slate Industry of North and Mid Wales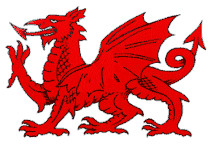 Photo gallery - page 14
---
Rhos Quarry

Rhos Quarry is near Capel Curig and remained open until the early 1950's.
An unused pit for a water wheel

Remains of the quarry cottages

This dam supplied the water to Rhos quarry. It is formed of slate slabs braced by old tramway rails.
---
The route of the Nantlle Railway
This horse powered railway was of 3' 6" (105cm) gauge and ran originally to Caernarfon, from where the slate was exported by sea. From 1872 it only ran as far as Talysarn where connection was made with the national rail network. The Nantlle Railway continued in use, as a part of British Railways, until 1963 and remained horse worked until a couple of years before closure. The final two horses in use were "Prince" and "Corwen". After the horses were retired a tractor was used for the diminishing amount of traffic. Much of its route is traceable today as far as the easterly terminus at Penyrorsedd Quarry.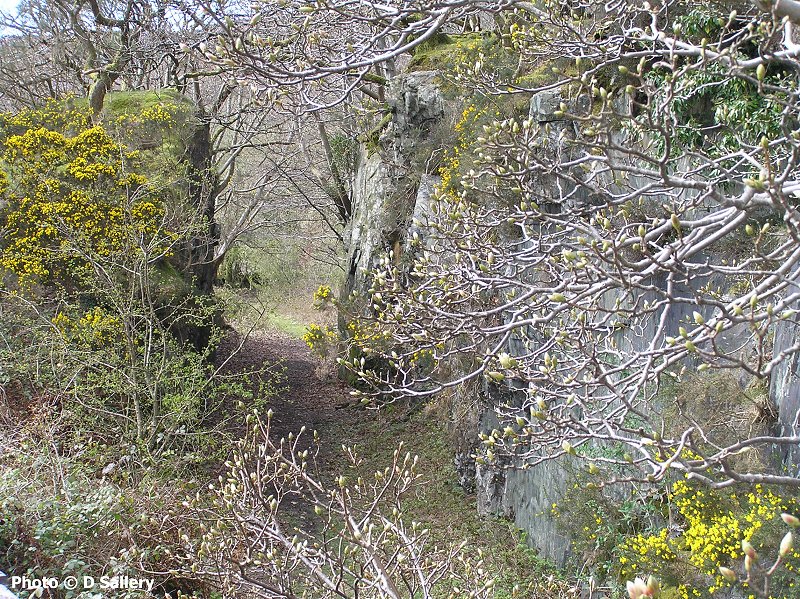 ---
An incline cable
The wire ropes used to haul wagons on the inclines were of little value after closure and were frequently left behind by the scrapman.
---
Cwm Croesor inclines
There were once five gravity powered inclines in the upper Croesor valley which fed the Croesor tramway. This is a view of two of them. The lower one, on the left, is Blaen y Cwm while the one on the right is the mighty Rhosydd incline. The vertical drop of this incline is 670 feet and the horizontal distance is 1250 feet. This gives an average gradient of 1 in 1.86. Read more about these inclines and the history of Rhosydd quarry on my website.
---